Announcements
The Capacity Limits In Dubai Public Areas Have Increased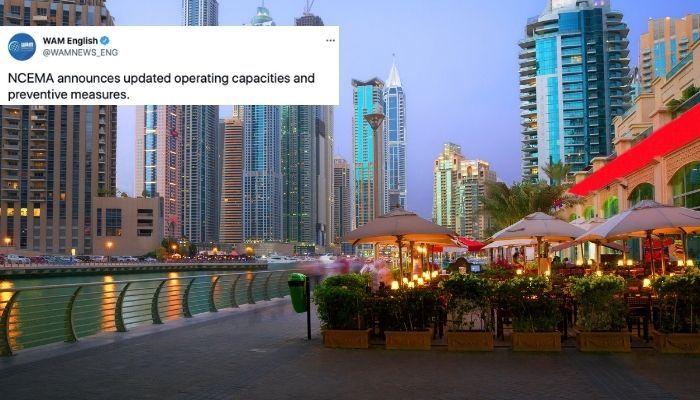 The capacity at shopping malls, restaurants, cafes and public facilities in the UAE has been regulated and capped for the longest time. It even went down to 50% at some point. It gradually went up to 70% and NCEMA have just announced that it increased once again!
Hotel establishments, cinemas, restaurants, shopping malls, cafes, the whole nine have increased their capacity limits
Let's break it down so you have a clear picture! Although the capacity in those areas have increased, maintaining social distancing and wearing face masks is still mandatory.
Hotels can operate at FULL capacity.
Cinemas, museums, restaurants, cafes, and shopping malls can operate at 80% capacity. Up to 10 people can be seated at one table at restaurants and cafes in Dubai.
Public transportation have increased their capacity to 75%.
Events and wedding halls have a new capacity of 60% but the number of guests cannot exceed 300 people.
#الطوارئ_والأزمات: تحديث الاجراءات الاحترازية والطاقة الاستيعابية لمختلف المرافق، تماشياً مع استراتيجية الدولة في خلق التوازن بين الصحة ومختلف القطاعات ودعما للجهود الوطنية لتحقيق التعافي المستدام وعودة الحياة الطبيعية الجديدة مع العودة التدريجية للأنشطة.https://t.co/oxNtsWSFQ1 pic.twitter.com/NGiJvhliS8

— NCEMA UAE (@NCEMAUAE) August 8, 2021
The regulations for attending live events have also been slightly tweaked
Live events and exhibitions can only be attended by those who are fully vaccinated against COVID-19 and it has been less than 6 months since the second dose. This includes participatants in clinical trials.
Those with chronic illnesses and the elderly can only attend if no more than 3 months have passed since their second dose.
Those wishing to attend events must present a negative PCR test, taken within 48 hours, plus the letter E or gold start showing on the Al Hosn app. NCEMA are also urging establishments to use the 'green pass' protocol for certain categories of events to help contain the spread.
Watch The Lovin Show: People Returning To The UAE From India Must Have Been Vaccinated In The UAE