Announcements
A Royal Scam: Beware The FAUX Crown Prince Of Dubai Might Just Slide Into Your DMs This Week!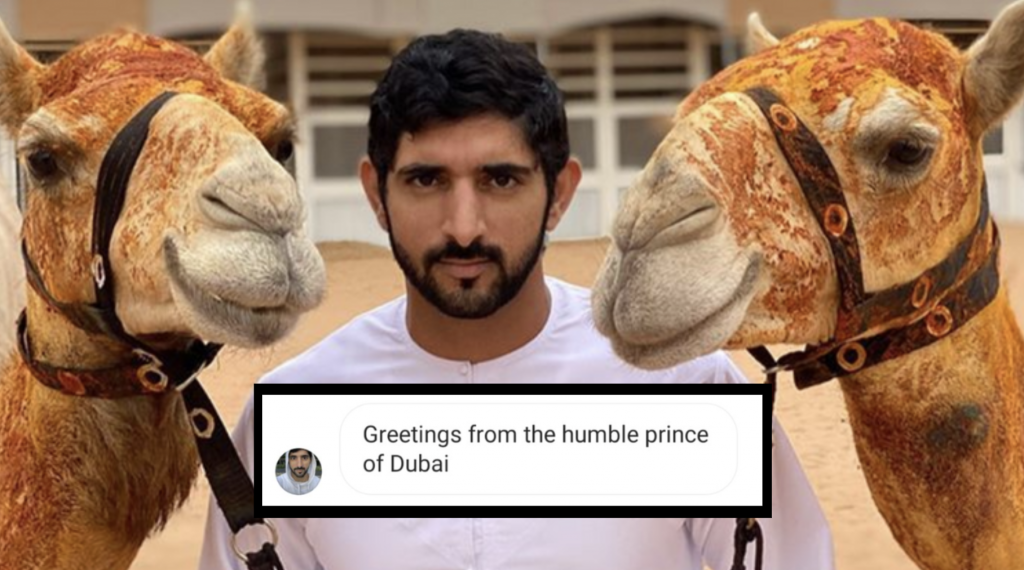 A Royal Scam: Beware The FAUX Crown Prince Of Dubai Might Just Slide Into Your DMs This Week!
*CATFISH ALERT!!!*
Imagine you just chilling out, minding your own business when *PINGG* you get a notification reading that the Crown Prince of Dubai has just followed or privately messaged you.
Sounds like the dream eh? Well, that's 'zactly what's been happening to a number of Dubai peeps and folks around the world, all of whom recently woke up to a follow request or a flirty DM from a social media account CLAIMING to be none other than Sheikh Hamdan bin Mohammed bin Rashid Al Maktoum, Crown Prince of Dubai AKA Fazza.
Honestly, who doesn't want to wake up to find a royal stalking them big time, BUT, unless you have just broken some record or broken a major LAW… it's quite unlikely that Fazza would slide into your DMs for some LOLs. Ya'feel?
Beware the fake Crown Prince of Dubai sliding into your DMs and baiting you in for a 'royal scam'!
Just got the coveted "Crown Prince of Dubai " follow.
Weird how he only has 1 follower. pic.twitter.com/7qouO8vmru

— John Aquino (@DrJohnAquino) September 21, 2020
Dubai's prince sure is humble… but we doubt sliding into DMs is his style of making a first impression
Oh my, a prince from Dubai wants to chat!!! 😂😂😂😂 pic.twitter.com/0wTwI8hOE0

— Lucianna Dykstra (@dykstralt) September 25, 2020
Fake Fazzas we see you. Who you tryna fool?!😏
@smule bots and scammers are a HUGE PROBLEM on this app. You need to start giving us the option to report bots/scammers. I'm tired of getting random messages from the prince of Dubai pic.twitter.com/fKnM3zmbHA

— 😴 MaryIsTired 😴 (@BrandNew_Mary) September 22, 2020
Issa relief to see tweeps not falling for Faux Fazza's tempting DMs… oh internet, you is WILDDD!
Well, I just blocked his highness the self-proclaimed "crown prince of Dubai Arab Emirates" who decided to follow me. Um, no, haha, but thanks for the laugh Mr. Bot 😆 pic.twitter.com/Nf2ld3biRn

— Amy (@AmyBerz) September 18, 2020
FYI, for that 2% out there who don't already know, this is what Sheikh Hamdan's OFFICIAL Twitter account looks like:
If you manage to get a follow from this account right here… then well thas as legit as it gets.