Community
A Huge Sand Storm Sweeps Across The UAE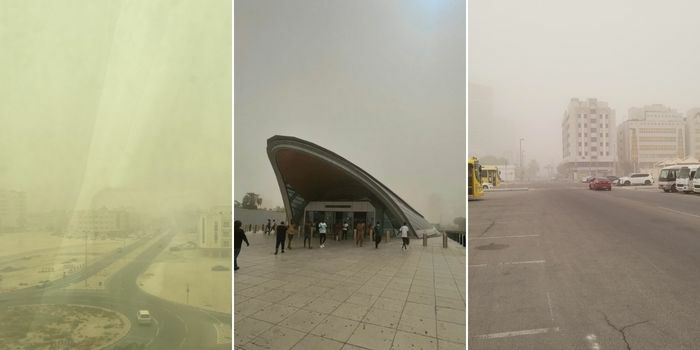 Title images: left- @guywith2teeth, centre- @kaleel_pvk, right- @travelblogger_93 
UAE residents woke up to very decreased visibility this AM as a huge dust storm had taken over the country. Dm's across the Lovin platforms were filled with pictures, videos, and even reels of the dust storm.
However, there is no cause to worry as the rough weather conditions had been predicted by the National Emergency Crisis and Disaster Management Authority (NCEMA UAE) almost a week ago on August 8.
The forecast also predicts rain in the eastern and southern regions beginning today until Wednesday, August 17
The country is affected by a low-pressure system from the east, with chances of rain on the eastern and southern areas expected from Sunday 14 till Wednesday 17 of August 2022 pic.twitter.com/QBQsIRyxd0

— NCEMA UAE (@NCEMAUAE) August 8, 2022
The NCEMA has also tweeted that they are ready to deal with any issues that may arise during this period
So you have no reason to worry! Just make sure you stay safe and stay indoors as much as possible.
If you have to go outdoors- please drive slowly and carefully, and wear a mask at all times.
#NCEMA reaffirms the readiness of relevant authorities to deal with the upcoming forecasted weather situation. pic.twitter.com/v4ePZQMMOC

— NCEMA UAE (@NCEMAUAE) August 13, 2022