Community
A UAE Resident Purchased An IPhone 13 For AED5,970 Online And Instead Got A Fake Version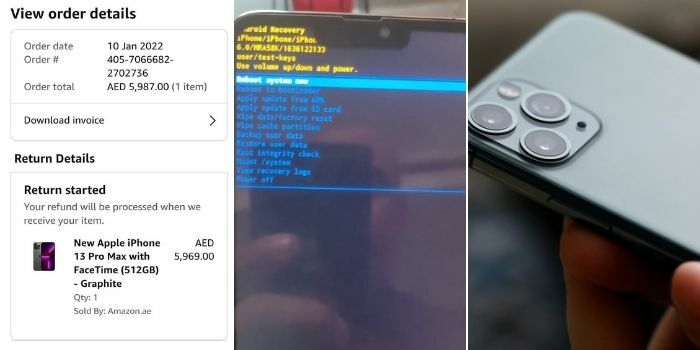 You know those memes that say 'when you order it online' versus 'when it arrives.' usually what arrives is something that looks nothing like the photo or description that's put up online. Well… A UAE resident purchased the new iPhone 13 Pro Max with 512GB for AED5,970.
He bought it online but what ended up getting delivered was a total jaw-dropping surprise.
Francis purchased the newest iPhone online and what arrived was a fake iPhone with an android system
Speaking of fake, Read Next: Beware Of Fake Lovin Dubai Instagram Accounts That Claim You Won A Prize
This article has been updated.
The box looked legit but when he opened the iPhone, 'Android Recovery' was displayed on the screen
Francis Lamas DM'd Lovin Dubai with all the information to warn people against this odd scam. The ad on Amazon stated "New Apple iPhone 13 Pro Max with FaceTime (512GB) – Graphite" and listed it for AED5,969 and "Sold By: Amazon.ae"
Normally you wouldn't think it would ever be something other than authentic like you would when you buy it from the Apple store. Francis placed the order on January 10, 2022, and when it arrived a few days later, what showed up was a knock-off version. The box looked a little worn out and stated it was made and assembled in China. Francis sent a request to have it returned, the money refunded and raised a complaint with Customer Services. Amazon's return policy is also stated here.
An Amazon spokesperson has made a statement regarding the situation, stating:
We work very hard to deliver on our promise and customer satisfaction is our top priority. We have reached out to the customer and are investigating this case in order to ensure the appropriate action is taken.
Listen To The Lovin Dubai Show: The YouTuber Doing A LIVE Stunt In A Glass Box Downtown Has Already Raised AED18 MILLION