Community
OTP Codes Could Be A Scam Tactic Even If Sent By Dubai Police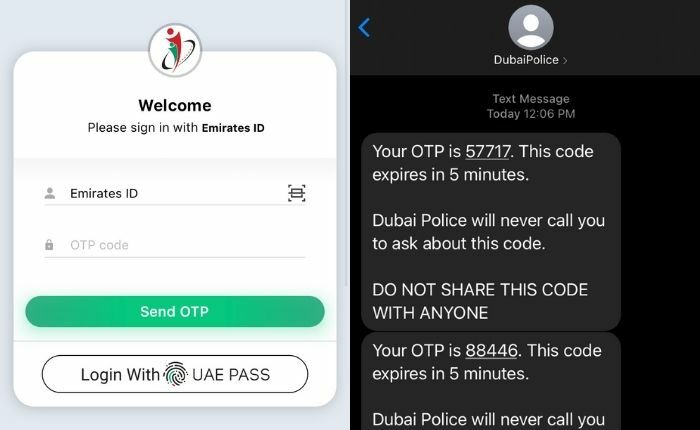 Dubai residents are always talking about the latest scams and how elaborate they're getting. It's a little ridiculous but if you can spot the fishiness, you'll always be on the safe side. It goes from a simple "Emirates Post" email, which is an old scam but it's pretty well done, to more sophisticated schemes like clicking URLs and sharing codes.
Speaking of sharing codes and OTPs, they're only sent when you ask for them from a website or app. No one would actually call to get a code from you. That's fishy behavior. Even if it's sent by the official police sms thread!!
If you got OTPs from Dubai Police through an SMS but you didn't try to verify anything, RUN IT'S A SCAM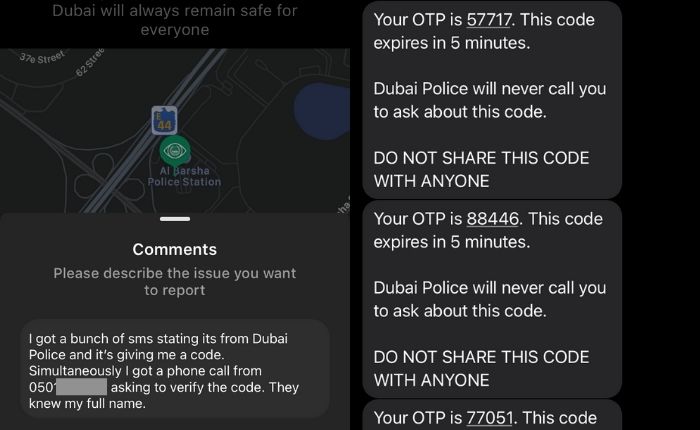 Scam Alert: Dubai Police will never call to ask for an OTP
Although getting a text message from the police seems legit as day, you have to stop to question its purpose because scams are everywhere these days.
How can you tell it's a red flag?
Dubai Police will never call to ask for an OTP
Dubai Police will never call from a 050 number or any other variation of that.
So what happened? A Lovin Dubai employee got a call from a random 050… number asking for the codes that were just sent via SMS. The employee didn't give any information or codes away and actually rushed to the Barsha Police Station to ask if it was legit. The police officers asked the employee to report the incident through the Dubai Police app and state the number that made the call. When the Lovin employee entered the report, the app requested an OTP and it went to the SAME thread that had the unsolicited codes but the officers said that it's okay to enter that code and just not share with anyone else.
So who was behind the phone call? That is still a mystery. How were the codes sent via official Dubai Police? Also a mystery. It goes to show how elaborate schemes are getting and being vigilant is more important now than ever before!
Listen To The Lovin Dubai Show: A Dubai Blogger's Instagram Account Got Hacked By A Sophisticated Scam