Latest
An Emirati Mexican Blogger Shares How You Could Get Hacked Via Instagram DMs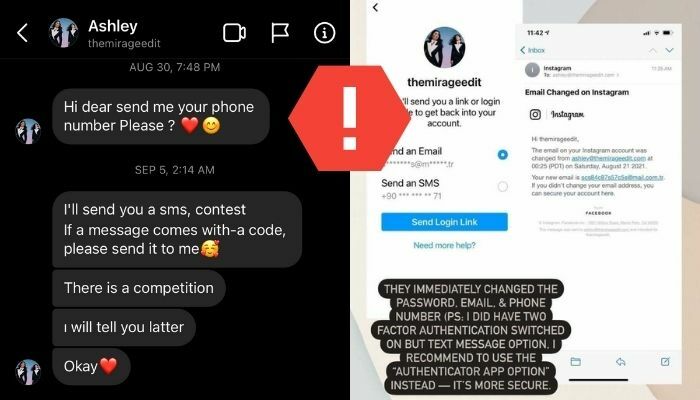 It was dead-end after dead-end with getting her Instagram back, until she got Dubai Police involved. Ashley, an Emirati Mexican blogger got her Instagram hacked for 3 weeks and because Facebook and Instagram are connected, that was hacked too. The scammer was assuming her identity, messaging people, and attempting to scam her followers.
After this experience, she dedicated a story highlight to spread awareness on how to avoid the tricks and scams. She also shared the different ways that hackers could steal your Instagram just via DMs! To watch the full story, visit her highlights.
The Mirage Edit, AKA Ashley shares the different ways hackers hack, and how to avoid the scams via Instagram DMs
If you have an Instagram account, which you probably do, 2 factor authentication works wonders but Ashley takes safety to a step further!
Aslo Read: A Lovin Dubai Employee Got Scammed AED3,000 Worth Of iTunes Vouchers
How Ashley got hacked: one of the methods that scammers use
Ashley got a DM from a friend asking for her phone number. Seems pretty innocent. The "friend" says that they'll send Ashley an SMS with a code because she's being entered into a competition, something among these lines. Long story short, a code and url were sent back and forth.
Ashely then got a message from Facebook telling her to follow the link to log back into Instagram, however when she clicked the link, she actually got logged out (she wasn't logged out before clicking the link).
The scammer then changed the password, email and phone number that are used in the double factor authentication.
How YOU could get hacked: a scenario
Scammers could reach out via DM and pretend to be "Copyright Infringement" with a picture of Instagram's logo as the display picture. It somewhat looks legit but its DEFINITELY a scam!
Anyway, the DM will say something like you broke a violation and you have to follow the link or your account will be deleted. As a rule of thumb, if you get a link or a video, from someone you don't know, DON'T CLICK on it. Instagram will never contact a user via DM, it's always Email!
How YOU could get hacker: another scenario
Ashley shared a third scenario of how you could get hacked and it happened to her personal friend. Her friend got hacked via iCloud. The scammer downloaded her snapchat video, repurposed it, altered the voice and made a story announcement to convince people to send money through bitcoin.
The blogger recommends you update your to ios 14.8 to avoid security threats.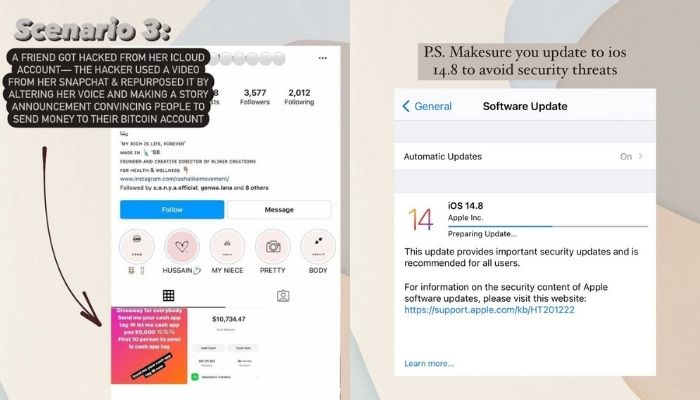 How YOU could avoid getting hacked: Google Authenticator app
Step 1: Download an authentication app like Google Authenticator App.
Step 2: In your Instagram security setting, allow Authentication App as it's safer than the text message option in Ashley's opinion.
Step 3: Actually do it though! You might think your account isn't worth a hacker's time but you never know and it's always better to stay safe!