Dubai
9 Incredible Dubai World Records That You Probably Didn't Know Of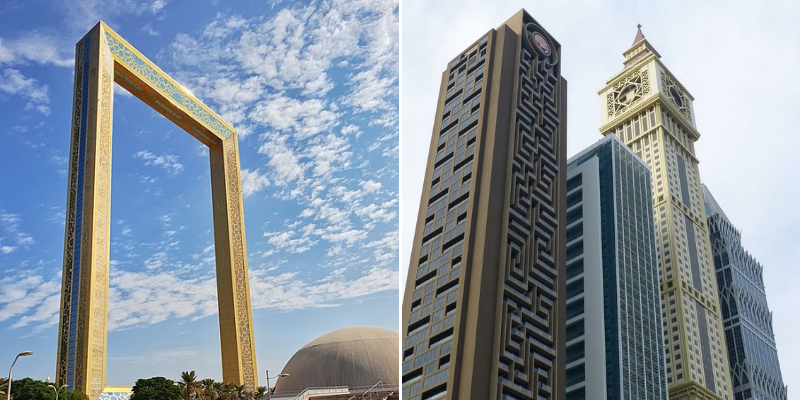 Dubai holds a lot of world records. You open the newspaper in the morning and chances are that you may hear of a new world record. There are so many of them that it's hard to keep up. That's exactly why we've come up with this list that will show you some of Dubai's pretty awesome world records that you probably didn't know of.
Largest OLED Screen
The Dubai Aquarium & Underwater Zoo at Dubai Mall is home to a massive OLED display that's the world's largest. It measures 709.69 m²!!!
Fun Fact: The same display holds two other world records; the largest high-definition video wall and the highest quality video wall.
Did you know.....Dubai Aquarium & Underwater Zoo is home to the world's largest OLED screen. With a resolution of 1,700,352,000 pixels, the striking display holds records for the highest resolution video wall and largest high-definition video wall pic.twitter.com/SfhT4h2zf1

— Ultimate Visual Solutions (@UltimateVS_UK) February 16, 2021
Largest Building In The Shape Of A Picture Frame
This record is a mouthful but needless to say our Dubai Frame is awesome even without it. The Dubai Frame measures a colossal 150.23 m by 95.53 m.
View this post on Instagram
Longest Driverless Metro Network
Our very own, much-loved metro is a world record holder as well. The Dubai Metro Red Line along with the Green Line taken together measure over 74 km making it the longest in the world.
View this post on Instagram

Tallest Hotel
The 75 storey Gevora Hotel is the tallest in the world measuring 356.33 m from the ground up.
Fun fact: It's got a whopping 528 rooms inside.
View this post on Instagram
Highest Restaurant In A Building
The Burj Khalifa alone holds so many world records and one of its records that you may have missed out on is that it's home to the highest restaurant in a building. The restaurant called At.mosphere sits 441.3 meters above ground level. By the way, they even serve gold-plated coffee here.
View this post on Instagram
Highest Outdoor Infinity Pool In A Building
Instagram loves infinity pools and Dubai being Instagram's darling is home to the highest outdoor infinity pool in a building. The sleek pool is located atop the Address Beach Resort's rooftop at 293.90 m above ground level. The view from here is absolutely Instagrammable.
View this post on Instagram
Largest Vertical Maze
The largest vertical maze, with a surface area of 3,947.22 m2, is located on the façade of the Al Rostamani Maze Tower.
View this post on Instagram
World's Deepest Swimming Pool
Indoor scuba diving at 60 meters depth? Where else if not in Dubai? There's a fantasy world in the depths below that's waiting to be explored.
View this post on Instagram
World's Longest Urban Zipline
The XLine in Dubai spans a record-breaking 1 km. It's also one of the fastest ziplines in the world with an average speed of 80km/h.
View this post on Instagram