Feature
Dababy Was Eating Gold-Covered Steak At Rhain Steakhouse Last Night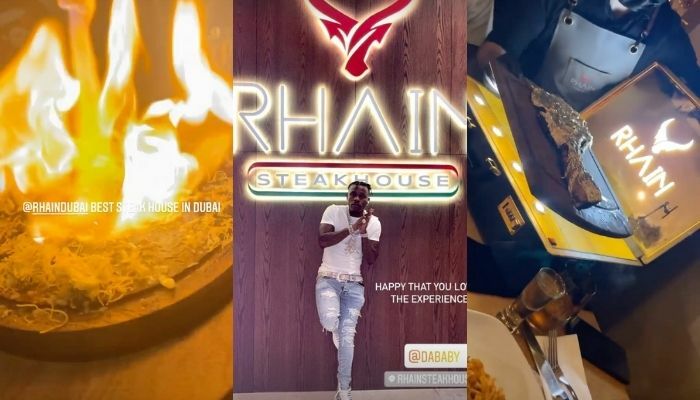 American Superstar Dababy is in Dubai to perform at Moneykicks' TK Fright Night Social Knockout 2 boxing event on October 15 at the Coca Cola Arena! Afterwards he'll be down at the newly opened club Float Dubai.
But as of last night, he was at the classy steakhouse Rhain Dubai which he named the best in Dubai.
Dababy was living it up Dubai-style at Rhain steakhouse and he took fans along with him on Instastories!
The rapper made a new friend he nicknamed "freaky" and had some gold-covered steak
One of the waiters that was serving on the rapper and his entourage became pretty close to the group and earned himself a hefty tip! Later the group was brought over a light-up briefcase filled with… a giant meaty bone covered in 24-carat gold flakes! That's very Dubai.
A local man invited the rapper, his mother and entourage to the Burj Khalifa
The group was standing at the Burj Khalifa when a local man gave them access to a high balcony of the Burj Khalifa. The rapper's mum was also there and she was enjoying the view. Catch Dababy while he's in Dubai at the opening party of the world's biggest floating nightclub!