Latest
A Dubai Resident Was Honoured By Police For Tackling A Robber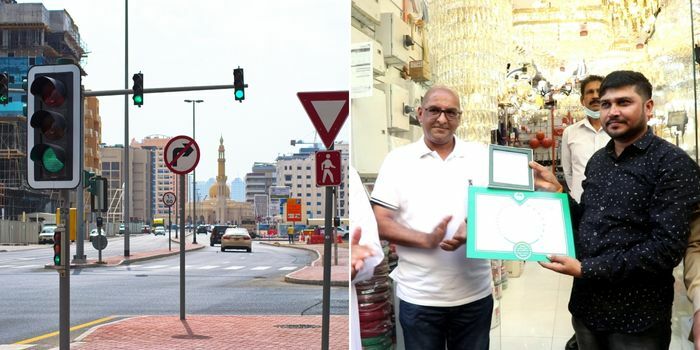 It's the Dubai Police and the long-time loving residents of the city that keep Dubai a safe haven. The crime rate is at an all-time low but even when there is a crime committed, justice is served almost instantly.
In the Naif area of Dubai, 2 Asian men were reportedly carrying two bags containing AED4.25 million in cash of different currencies. A thief decided to snatch one of the bags and make a run for it! He grabbed one of the bags which contained AED2.7 million. The two Asian men shouted for help and a man working at a store nearby intercepted the theft!
Keshur Kara Chavada Karu Ghela, an Indian national, tackled, wrestled and pinned the thief to the ground until police patrols arrived and made the arrest
#News | Dubai Police honour man for tackling, pinning robber and foiling his bid to steal AED 2.7 million

Details: https://t.co/0AiM30CwHQ#YourSecurityOurHappiness#SmartSecureTogether pic.twitter.com/MQqJViiYf2

— Dubai Policeشرطة دبي (@DubaiPoliceHQ) November 21, 2022
As the two Asian men shouted for help, Mr Keshur saw the robber running with the stolen bag toward him, so he bravely tackled him, started wrestling with him, and pinned him to the ground until the police patrols arrived and made the arrest.
Dr Major General Tariq Tahlak said.
Maj. Gen. Al Mansouri lauded the young man's efforts and courage in intercepting the thief and foiling his attempt to steal. He stated that his behaviour reflects his genuine commitment to the community and his wit in dealing with emergencies.
The Dubai Police paid Mr Keshur a visit to his workplace to honour him among his colleagues and neighbours.
Mr Keshur expressed his pride and joy for being honoured by Dubai Police and explained that this is a medal of honour that he shall forever cherish.
The Lovin Dubai Show: Dubai Police Issued Rules For The FIFA World Cup Fans