Dubai
A Dubai Resident Was The First And Only Filipino Representative At This Year's UCI Gran Fondo World Championship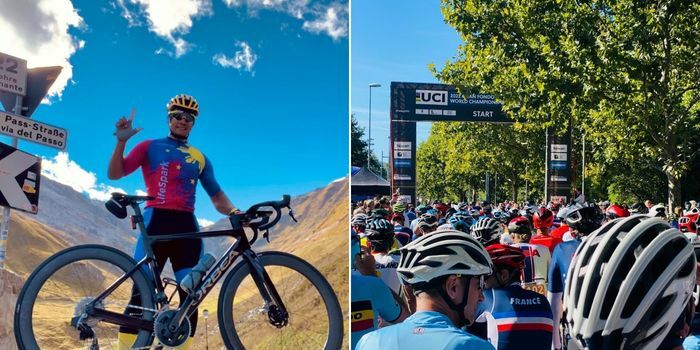 A Dubai Resident Was The First And Only Filipino Representative At This Year's UCI Gran Fondo World Championship
Well, what do you have it?
A Dubai-based coach and athlete, Dan Cordero, made his fellow Filipinos proud after being the first and only representative for the country in the recent UCI Gran Fondo World Championship.
The 50-year-old Filipino native is a cyclist who has also previously taken part in 70.3 Ironman and is the founder of LifeSpark Cycling, a community group of cyclists for residents of the UAE.
Dubai-based athlete Dan Cordero is the first representative of the Philippines in the UCI Gran Fondo World Championship
The UCI Gran Fondo World Championship is a sports event that takes place annually. Initially launched in 2011, it is a series of UCI-sanctioned races held all over the world.
View this post on Instagram
Qualifying for the UCI Gran Fondo World Championship means that the individual has to finish in the top 20% of their age group
View this post on Instagram
Aside from his athletic accomplishments, Cordero had also joined Mr Philippines and Mr Universe twice!
…talk about doing it all!
View this post on Instagram
Cordero started cycling at age 45 and was also previously a bodybuilding champ in the Philippines
After having lived in Dubai for fourteen years working as a fitness professional, Cordero has also gone into starting two community groups in the UAE: Life Spark Cycling and Life Spark Fitness, and is an avid promoter of reverse aging through fitness.
View this post on Instagram
"Only one, but not alone,"
Dan had been preparing for this goal after setting it in 2019 and had to be put on pause due to the pandemic. Finally, as of September 2022, his initial goal of qualifying and finishing strong at the UCI Gran Fondo World Championship came true.
When asked about the entire journey, Cordero said that "this time, I'm not there to race with other cyclists. But to finish what I started. Too many have not accomplished the course, and a lot of them went back on the last climb."
He and 6 other cyclists from the UAE each represented their own countries and managed to come out on the victorious end!
View this post on Instagram
"As an 80kg physique and strength conditioning coach, who started cycling at the age of 45, being here is a dream come true for me!"
Cordero shared that after he managed to reach the Top 7 in his age category, he was ecstatic to finally be able to take part in the UCI Gran Fondo World Championship. He adds: "Dubai is flat, but the UCI course is almost at 4000m elevation. Imagine a mountain twice the height of Burj Khalifa, then climb on a bicycle that is 2.5X. The gradient of the climb is 8-12% constant. In perspective, the UAE's UAE's highest mountain Jebel Jais is at 6%. I need to train 6 months just to aim to FINISH this ride. Even During summer, every week you'll see me riding in Shawka, Jebel Jais or Hafeet."
"But the experience is worth it!"
Speaking on the cycling in the Italian Alps, he says, "Monte Bondone is a beautiful scenic mountain, with forest, green grass, flowers, winding beautiful road. The villages along the route, the churches and castles, apple plantations, green fields and lakes. The people are friendly and very supportive. They cheer you along the way."
He ended his statement by urging people that it was "mission accomplished," adding that he hoped his story would inspire many that it is "not too late to be what you might have been. Stay fit, live strong!"
You've made not just your kabayans but the UAE proud!
View this post on Instagram