Dubai
The Burj Khalifa Lit Up In Honour Of The Late Diego Maradona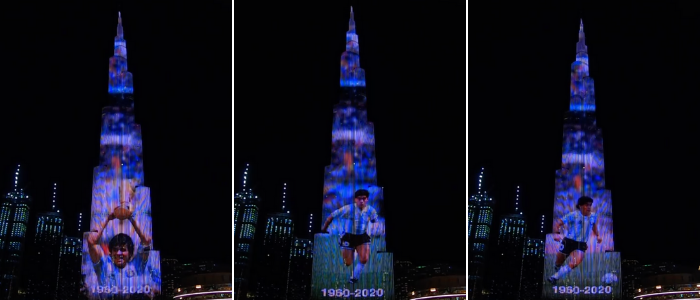 Last week the iconic footballer Diego Maradona passed away due to a heart attack and ever since then fans and the football community has been flooding social media with their appreciation for the legend.
From Salt Bae in Dubai reserving Maradona's favourite table forever to local teams paying him tributes for all his coaching, people have shared mutual feelings and thoughts about his passing.
The Burj Khalifa was also lit up on Friday to pay tribute to the late Argentian footballer
Aside from being a supremely important figure across the world, Maradona was extremely special to the UAE as he coached the Al Wasl and Fujairah Football Club in the past.
Here's to the icon Maradona, may his soul RIP