Latest
Camping Season Is Officially Here And This Is Defo The Best Way To Stay Fully Charged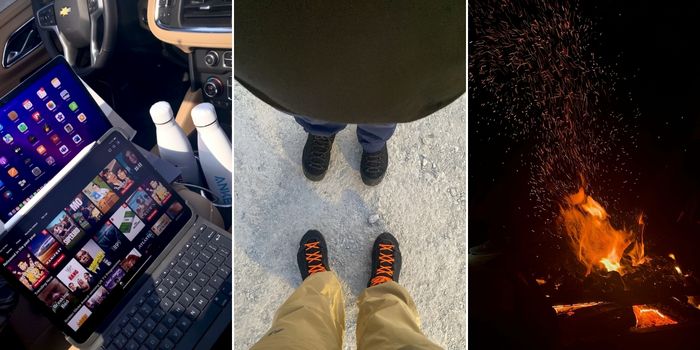 It's official! The weather has cooled (Jebel Jais just recorded low temps of only 13 degrees – Delightful!) and now the camping season is amongst us.
This is the best season to make the most of everything mother nature has to offer and enjoy some time under a starry night sky!
That being said, being prepared for the trip and stocking up on good camping gear is crucial for the best possible time in the outdoors. Here's a step-by-step on how to camp, successfully
Here are 5 camping gems you just shouldn't leave home without – take notes people!
Step 1: Never let your batteries die
Okay so there's nothing worse than putting a lottt of prep into a trip only for your battery to die and you not being able to take pics in peace. Like if it didn't go on your socials – did it even happen?! Ahem, cool selfie with a mountainous backdrop.
Don't worry, cos @Anker_mea is literally a plug and a half 🔌
As in, none of your gadgets can die if you invest in a PowerHouse. You can charge your phones laptops, iPads, cameras, heaters, fridges EVERYTHING alllll at the same time for the whole weekend..
Portable enough to carry around on a camping trip

It has outlets for a whole plug, type C and USB cables as well as a car charger making it capable of charging almost anything.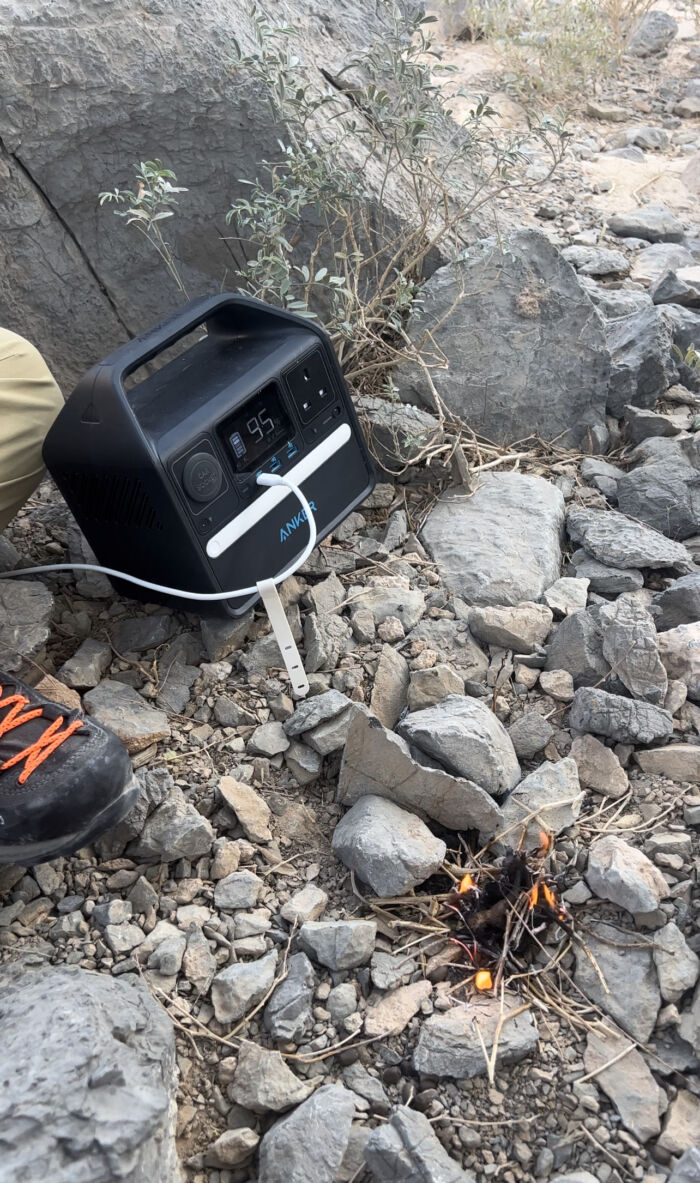 In the UAE, you can find 3 models of the Anker PowerHouse that has a total output of 200W, 500W and 1,500W.
To put things into context, the smallest PowerHouse can charge: a phone approximately 40-times; a camera approximately 30-times; a mini-fridge for up to 10-hours; a lamp for up to 32-hours; a laptop for 8-times and much more.
Simply put, it lasts a very very long time and can charge anything. In fact, you can last 2 full days in the desert and not worry about how to power or charge your devices or appliances.
View this post on Instagram
Don't just take our word for it though, everyone swears by the Anker products
Anker powerhouse keeping us changed while we are camping and exploring. #AnkerSummerRecharge @AnkerOfficial pic.twitter.com/4yYmIgJKwU

— Andy Fallon (@Andyfire) August 23, 2022
I am brand-loyal to Anker batteries and have owned multiple versions, all of which have lasted use for like 3-5 years at least and are still going.

— Connor Smith (@ConnorSmith) October 15, 2022
And of course, no camping trip is complete without a movie night, which means you have to check out Nebula projectors
Nebula projectors are compact and very portable. In fact, the Apollo is just 16.6 ounces and it gives people the opportunity to see every detail of your favorite movies, shows, games, and more in remarkable clarity. Nebula projectors come pre-installed with Netflix as well as Android OS, giving people access to over 400,000 movies and episodes on over 7,000 apps so you never run out of content.
For outdoor enthusiasts that are tech-savvy, the Nebula Mars II can be taken into the desert for a unique entertainment under-the-stars experience. Campers can just plug and play their favorite HDMI and USB 2.0 devices that include laptops, Playstation, Xbox One, Nintendo Switch and more.
With a Nebula projector, the only thing you gotta worry about is who's making the popcorn?! 🍿
P.s one lil birdie even used a whole microwave with the Anker PowerHouse so no excuses in the great outdoors…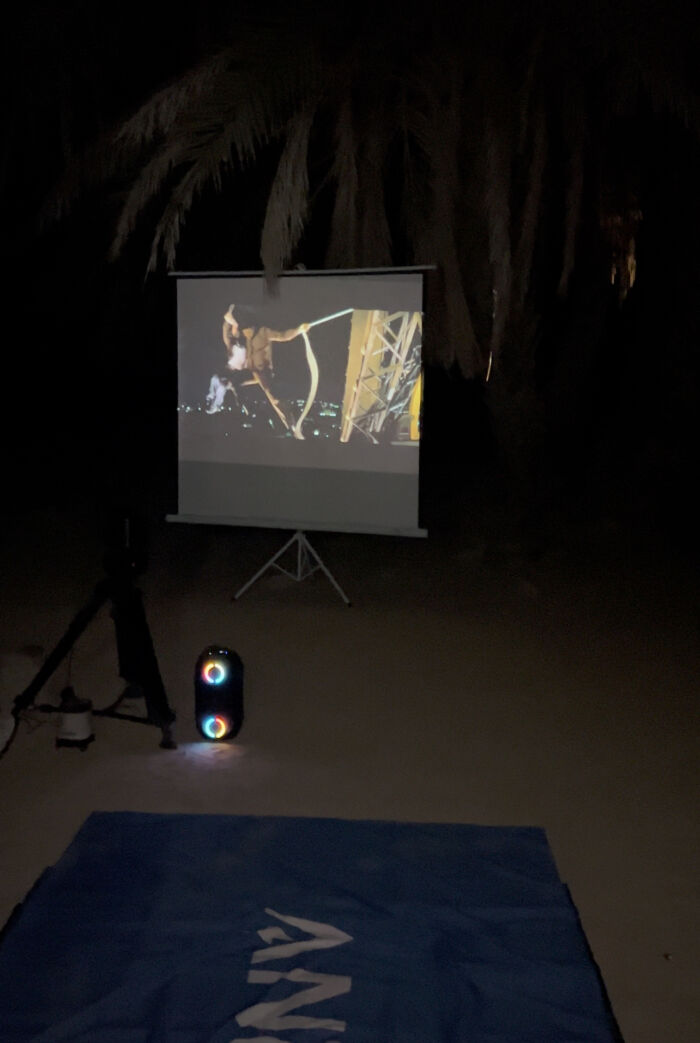 View this post on Instagram
Step 2: Find your big camping car
To start, you're gonna need a 4X4 SUV that's big enough to handle all types of rocky terrain or desert sand – depending on your campground location
And maybe a few lil extra bonus features would be nice too, likeeee maybe:
A fridge to keep your drinks and snacks cool
A sunroof to snap up pics and let your hair down
A boot big enough to fit all your 'just-in-case' items
This is where @AlGhandiAuto comes in with their huge collection of AMAAAZING Chevrolet SUVs – like the Chevrolet Tahoe or Chevrolet Silverado. Their vehicles are ready for any kind of camping getaway and their service is phenomenal!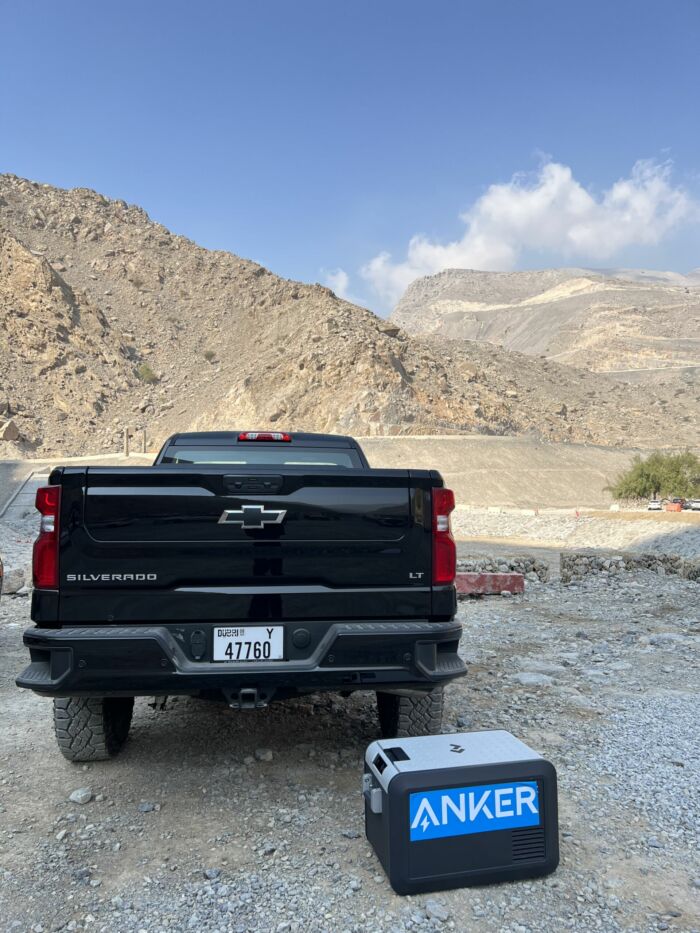 Step 3: Shop for your hiking outfits
Now you've got your transport sorted, you're gonna need some outfits for the great outdoors. You'll need some clothes that reflect where you're going to find your adventure.
You're gonna need:
Boots that won't give you blisters on a long walk through the mountains or the desert
A T-shirt and pants that are durable enough to not leave you with scratches if you're in a rocky place
Check @AdventureHQ for some great adventure essentials that you can wear on any kind of trip! They have over 300,000 products in store from over 300 brands making this your one-stop-shop to find anything and everything you need.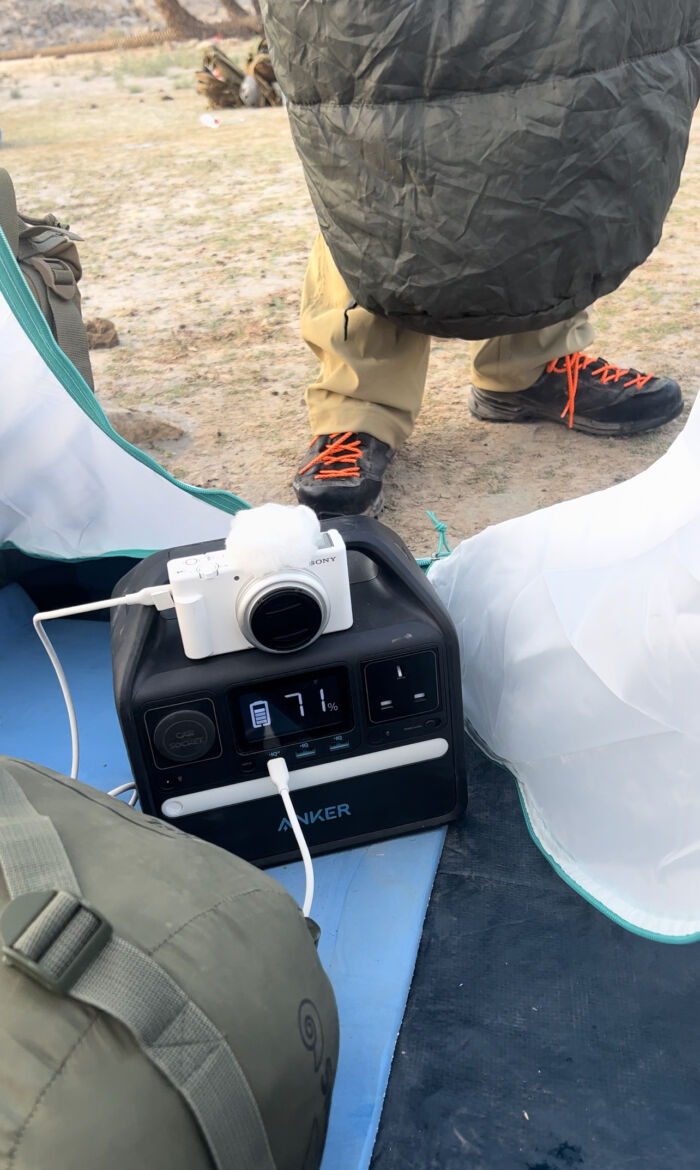 Step 4: Find a cool Insta-worthy location
Now if you're a true adventurer then you HAVE to try the @BearGryllsCampground at least once in your life!
The instructors are on hand to give you a 24 hour survival experience where they'll:
Make you hike 5km through Jebel Jais
Cook your own food and try dried worms
Set up your own tent and build a fire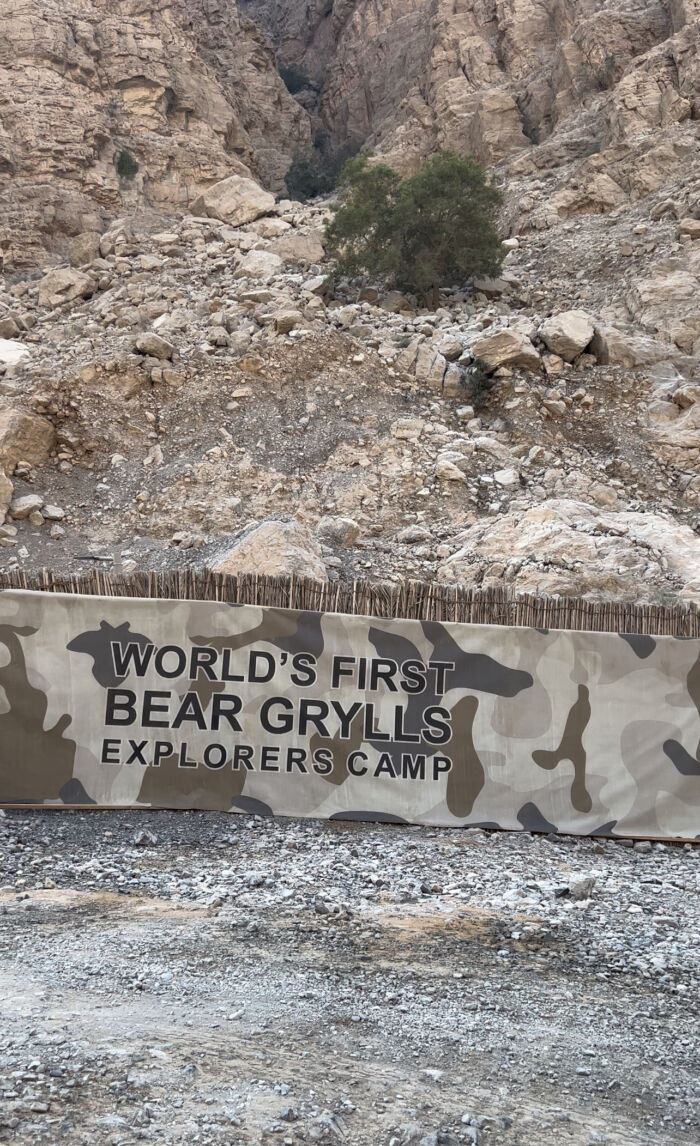 View this post on Instagram
Step 5: Buy a good vlogging camera to keep all the amazing memories
Whether you're a content creator or not, you NEED a good camera to take videos of everything. You can keep the memories for literally the rest of your life!
The ZV-1F is amazing because it:
Is designed for content creation with a selfie-friendly vari-angle LCD screen, body grip and a recording lamp
Can record in 4K and is both portable and pocket-sized for on-the-go vlogs
Has a viewfinder so you can record at your best
Has Directional 3-capsule mic with windscreen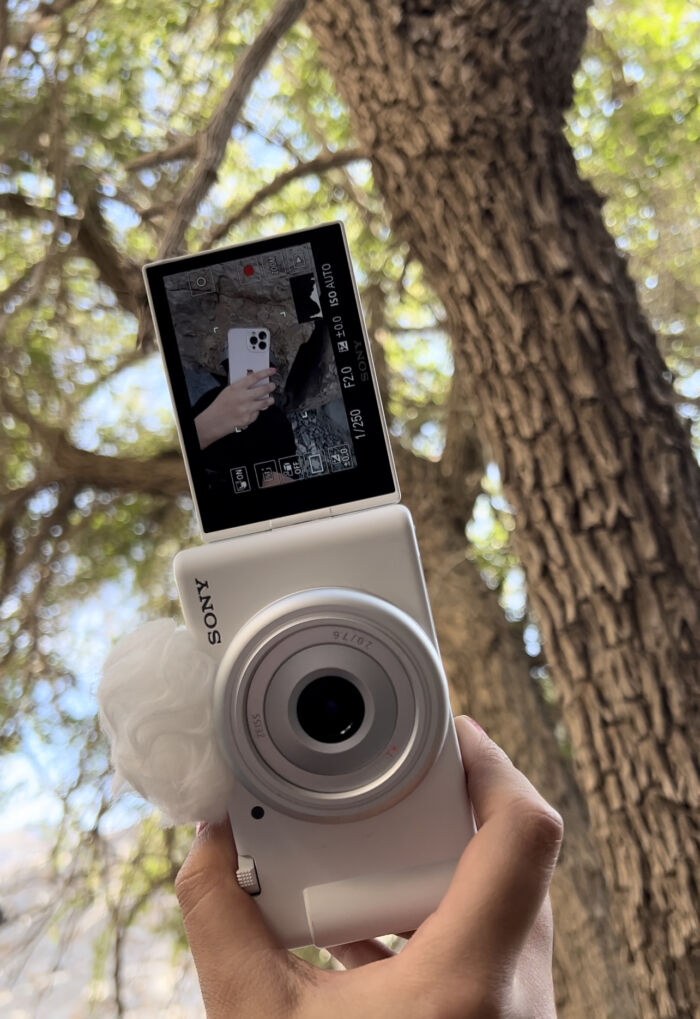 View this post on Instagram
The last step = Have fun and enjoy the experience!
Immerse yourself in a modern-day camping trip, with the luxuries of good, charged-up tech and the peace of the great outdoors.