Latest
Matteo Just Won The Best Dubai Proposal Of 2021 So Far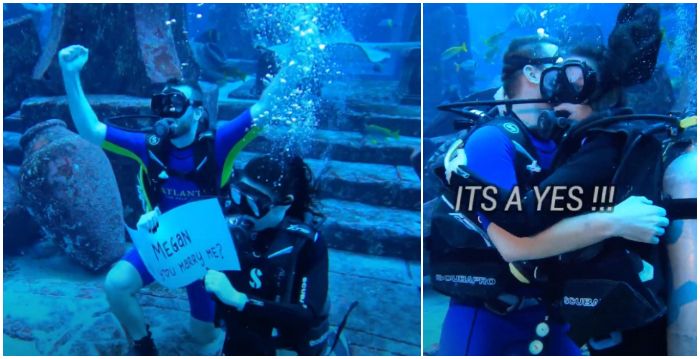 Adventure. Socially distanced. ROMANCE… This proposal has it all!
Megan prolly just got the surprise of her life, when her visit to The Lost Chambers at Atlantis, The Palm became memorable in more ways than one.
'Today is not like any other day. Today, I will ask you to be my wife'.
Matteo Boffa ditched the traditional proposal and in the YouTube video below, you can see how he made this day oh-so-special for his wifey to be! With the cutest couple and a soundtrack to match, this is the most adorable proposal you'll see on the internet today.
Matteo hid a note in the sand, that said 'Megan, will you marry me?'
The underwater proposal: Skip to 4.31 for the v special moment
Not their first rodeo, the pair look like they've had their fair share of diving lessons in the past, and after Matteo pops the question, the adventurous pair lean in for a kiss.
Listen To The Lovin Daily: The UAE Has Been Removed From The UK Travel Corridor
UAE authorities are reminding all visitors and residents in the country to wear their face mask when in public at ALL TIMES.
Those who fail to comply with the country's strict COVID-19 regulations will be subject to face a penalty of AED3,000.
Get yo'self this Reusable N95 Anti-Dust Face Mask with a filter for a price much, much less than what you might think.
Ensure your kiddos are safe and comf with this Fine Guard Kids Face Mask. Plus, the mask is designed to be super gentle on your child's face.
Go for a unique look with this 8822 Green Face Mask With Cool Flow Valve.

Note: This article may contain affiliate links. Lovin Dubai can receive a commission if items are purchased through a link from this post.