Announcements
Dubai Students Will Have The Choice To Study From Home In September
Once the new academic year begins, students will have the choice to continue distance learning.
The news was revealed by Khaleej Times and confirmed by the KHDA who reshared the info on Twitter.
In an earlier announcement, schools were asked to choose a model to suit their community, and it was stated that some in-school learning would be a requirement. Now the guides have been updated, and the KHDA stated in a circular to schools that while face-to-face teaching IS the preferred method of learning, as a temporary measure and as schools are adjusting to reopening, provisions should be made for 100% distant learning.
The move will help both parents and students ease back into school life
"While face-to-face learning remains the preferred education model, we understand that different parents have different views, especially in the first phases of re-opening. As a temporary measure, schools can and should provide 100 per cent distance learning provision in the new academic year to parents who request it".
Some parents are commending the decision
A massive THANK YOU 🙏

— Navita Gupta Hakim (@snoritaztweets) August 5, 2020
While others are asking for more clarity and an official source on the matter
Why don't you issue your own statements on social media, @KHDA? Instead of reposting from the Khaleej Times? This whole situation needs more clarity.

— Eve Hester-Wyne (@amhester) August 5, 2020
Dubai schools will reopen on August 30 and schools are already sharing their reopening models with parents
500 principles attended a re-opening session in July hosted by the Director-General of the Knowledge and Human Development Authority, Dr Abdulla Al Karam which focused on the safety requirements needed for schools to resume.
Schools are now assessing learning models needed to cater to their own communities.
You can find a report on each Dubai schools distance learning curriculums here
Parents, if you're looking to send your kiddos to school then prepare by stocking up now:
Check out this adorbs unicorn trio backpack, for kids/teens it's a book bag, laptop bag and lunchbox in one price
The ULTIMATE school supplies kits, tbh, I kind of want this myself, it has everything! Folders, binders, erasers, crayons, markers, the whole gang! Get it here
Relive your favourite (fictional) school moments with this High Schoool Musical boxset here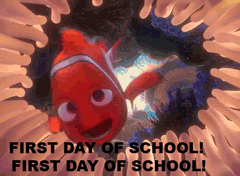 Note: This article may contain affiliate links. Lovin Dubai can receive a commission if items are purchased through a link from this post.
Lisen to The Lovin Daily: 78 People Have Died And 4,000 Have Been Wounded In The Beirut Explosion