Announcements
Great News For Cyclists: Al Qudra Now Has A Free Water Station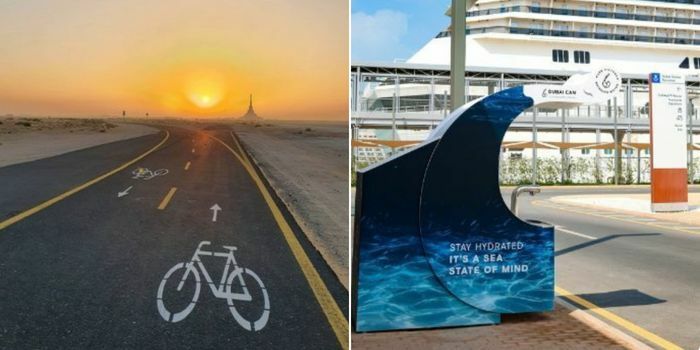 Cyclists, nature-enthusiasts or road trip fanatics who often find themselves in Al Qudra may very well be pleased to hear that a new FREE water station has been installed there, all thanks to the
Dubai Can
initiative.
If you haven't been up to speed, the city launched the Dubai Can initiative back in February 2022 and since then the city has cut down on MORE than a million 500ml single-use water bottles.
Isn't that just something?
The free water dispensers have been a game-changer in reducing the single-use of plastic bottles
Done by GMG, a well-being company along with the Department of Economy and Tourism (DET), the new water station has been set up in Al Qudra, a popular route for cyclists in the UAE.
View this post on Instagram
The drinking water from the stations are kept cool at a temperature of 10°C
…and is also a clean and convenient way to ensure that cyclists and other visitors opt to refill in reusable containers instead of purchasing a plastic bottle and disposing of it after a single-use.
The Dubai Can sustainability initiative is led by His Highness Sheikh Hamdan bin Mohammed bin Rashid Al Maktoum, Dubai's Crown Prince and Chairman of the Executive Council of Dubai.
In short, we love to see it!
افتتاح محطة توزيع مياه الشرب النقية بمنطقة القدرة في إطار مبادرة #دبي_تبادر_للاستدامة https://t.co/B6JLauVZpC #دبي pic.twitter.com/R2CdpR0Toj

— Dubai's Department of Economy and Tourism (@DubaiDET) August 12, 2022
Be part of the change AND carry a flask with you wherever you go!
So if you're ever out and about in the city, consider carrying a flask so you can refill it anytime and for FREE at any of the Dubai Can dispensers. The Dubai Can initiative also encourages communities, businesses, residents, and visitors to install water filters at home, offices and schools to reduce the use of plastic water bottles.