Latest
People Woke Up To Heavy Rain And Thunder In Dubai Early On Friday Morning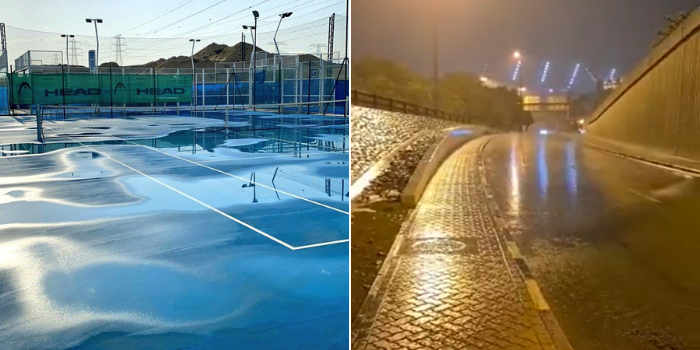 For us, here in Dubai, rains are always welcome. Yes, we actually get tired of those sunny days that seem to last 365 days a year. So, today was our lucky day as early in the morning we were blessed with rain and Dubai peeps loved it.
Now, the rains happened so early in the morning that most weren't able to capture it, but some did.
SubhanAllah it's raining in Dubai ☔️ #Dubai #rain pic.twitter.com/lGmEXOg48c

— Mariam Jomehei (@MariamAyhan) December 31, 2021
Though it rained for just a few minutes, it was pretty dramatic.
Dubai twitter. Who else got up at 5 AM by the sounds of the rain and storm? I did. My bed is near the balcony and the plants out were surviving the heavy winds. Christmas lights were hitting against the walls. Had to step out to see if everything was ok. Was scary.

— 𝘼𝙨𝙝𝗐𝗂𝗇 𝖥𝖾𝗋𝗇&𝙚𝙨😷 (@ashshanuferns) December 31, 2021
It's actually been quite a while since it rained last, right?
People Woke Up To Heavy Rain And Thunder In Dubai Early On Friday Morning pic.twitter.com/bZO463mhxU

— Lovin Dubai | لوڤن دبي (@lovindubai) December 31, 2021
Yup, that's Dubai at 5 AM. Still has cars on the streets 🙂
Dubai experiencing rain followed by lightning and thunder for the first time in two years and that too on the last day of 2021. Not even the fireworks can top this ❤️🌧#Dubai #MyDubai #UAE #KhaleejTimes #dubai #rain #dubairain @khaleejtimes @AlArabiya_Eng @MyDubai pic.twitter.com/RJqll6SyzX

— Spinner Sunny (@spinnersunny) December 31, 2021