Latest
The UAE Has Been Taken Off The UK Quarantine List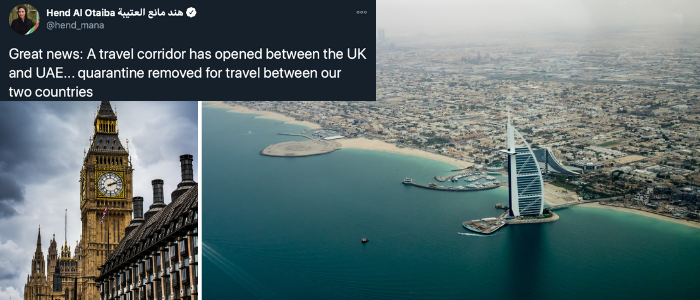 It truly feels like the Christmas season here now because the world seems to be FINALLY opening up again. And adding to this good news is the latest quarantine rules coming in from the UK.
Passengers from the UAE no longer have to quarantine in the UK upon travelling there
Thanks to the safety measures taken in the UAE, the country is considered safe enough for passengers travelling from Dubai and Abu Dhabi to no longer quarantine for two weeks starting 4am on Saturday, November 14. 
HH Sheikh Ahmed bin Saeed Al Maktoum, President of the Dubai Civil Aviation Authority, Chairman of Dubai Airports and Chairman and Chief Executive of Emirates Airlines also talked about how Emirates will be adding in more flights between the two countries soon
Eight countries in total have made it to the new UK's recent quarantine-free corridor list. The other countries are Bahrain, Qatar, Cambodia, Iceland, Laos and Turks and Caicos. 
This would basically mean residents of the UK looking to enjoy the winter sun in Dubai can easily do so and head back home without the worries of quarantine days