Community
Weekend Hotlist: 10 Events You Cannot Miss This March!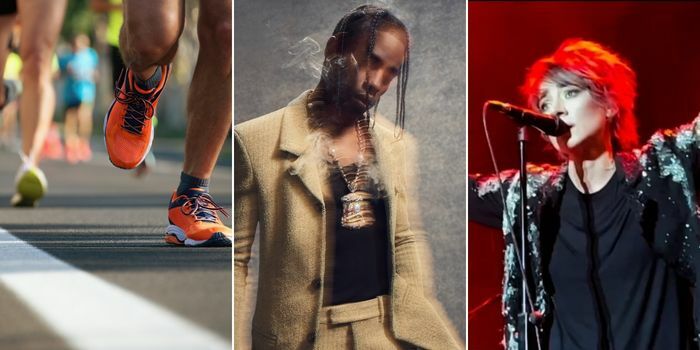 The weekend is here and so are a bunch of cool events you can head to!
Here are some events to head to this March 11 and 12 to have a jolly good time
10. Demi Lovato is performing live in Dubai
Pop icon Demi Lovato is performing at Dubai's home of live entertainment. Demi has been a driving force in the music industry for over a decade and her long-awaited return to Dubai is set to be a highlight on this year's event calendar…AKA you cannot miss it!
Where? Coca-Cola Arena
When? Saturday, March 18
Time? 6:30 pm onwards
Tickets are available here!
View this post on Instagram
9. Visit a chic salon for some serious R&R
If you appreciate a personalised spa experience, Bianco Spa will be right up your alley. Bianco Spa is a homegrown business, 5 years in making and it's now got 3 locations in Dubai. The interiors are minimalist, high-end chic, and the teams are amazing for hair, nails, waxing, facials, the whole lot!
Where? Silicon Oasis, Layan Community, Dubai Hills Mall
Learn more here
View this post on Instagram
8. Treat yourself to a staycay this March and get a free themepark ticcie!
Keep the kids busy AND show yourself a good time at Hyatt Centric Jumeirah! Book a getaway with your loved and you'll get a 1-day entry ticket to Dubai Parks and Resorts this March.
Included in the price, you get complimentary brekkie for two and 20% discount on food. (Minimum stay of 2 nights!)
How much? Starting from just over AED 1200 per night (Ts&Cs apply)
Where? Hyatt Centric Jumeirah
Learn more and book it in here
View this post on Instagram
7. High Joint fans! RUN for their new fancier dining experience
High Joint, (one of Dubai's best burgers) has taken over a secret garden in DIFC and it's taking a regular burger experience to another level.
The new hidden gem is located at @highattowers but this spot is even more exclusive. Introducing: High End. It's a table-order experience and you'll eat premium burgers and sides (there are 4 courses) along with premium no-alco drinks under a canopy or trees and stars and you might even spot some roaming peacocks.
This is newly opened and one to visit if you appreciate premium burgers without breaking the bank.
View this post on Instagram
6. Wireless Fest ME is happening
Last chance to be part of the most unforgettable festival experience! Get your tickets now before it's too late. Lil Uzi, Travis Scott, Ali Gatie and so many more of your fave headliners will be turning it up.
Buy your tickets here
When? Saturday, March 11
Where? Etihad Park on Yas Island
View this post on Instagram
5. The Krispy Kreme Dubai Doughnut run is back for its second year!
Run 1km then eat a doughnut…run again, eat another! Keep going until you reach your limit…this is literally the best of both worlds. You can run up to 10 km….that's 10 delish doughnuts!
The event is open to all abilities and all ages; kids welcome to 'help' you in your race. Strollers or carts accepted.
Where? Al Ittihad Park, Palm Jumeirah
When? Saturday, March 11
Time? From 9am
Price? From AED 125
View this post on Instagram
4. It's all fun and party at the Coya evening brunch
A delightful array of exquisite flavours, featuring an eclectic mix of dishes that will transport your taste buds to new culinary heights, while enjoying live entertainment by the talented singer, La Negra Mayté as well as guitar player, Emiliano Barés along with one of COYA MUSIC's resident DJ's.
When? Every Friday starting 24th Feb
Where? chanca by COYA, Dubai
Time? 8pm to 11pm
View this post on Instagram
3. You can't miss out on the UAE's First Dog-friendly Food Festival
Welcome to Dubai's first-ever dog-friendly food feastival, with hundreds gathering to enjoy food, drinks, and various fun activities with their canine companions. Dubai Feastival promises delicious tasting menus from our favourite restaurants including Vietnamese Foodies, Hella, Sanderson's, Carnistore, Pinza, and more! Shop 'til you drop at the mini-market, which supports an array of local small businesses selling pet-related products, home décor, and fashion.
Only dogs are allowed. 
Where? The Square @ ISD, Dubai Sports City
When? March 18,19 (next Saturday and Sunday)
Price? General Admission: Single Day: AED 70; Two-Day: AED 120
Buy your tickets here.
View this post on Instagram
2. Journey to the Amalfi coast in the 70s at this luxurious brunch by Retrofino
Retrofino is a feast for the senses, with a mouthwatering selection of Italian-inspired dishes and cocktails that will tantalise your taste buds. This unique event is designed to transport you back in time to an era of great food, wine, cocktails and company, with every detail carefully crafted to recreate the magic of a bygone era.
Where? Ground Level, Julius Tower, Caesars Palace, Dubai
When? Every Saturday
Time?  11am to 5pm
For bookings dine@caesarsdubai.ae
View this post on Instagram
1. Zemfira is performing live in Dubai
The superstar, singer, songwriter and composer Zemfira will perform her first headlining concert in the UAE on the Coca-Cola Arena stage.
Zemfira has been described as the 'voice of a generation' and a representative of Russian musical culture. Her songs are considered among the top 100 best rock songs of the twenty-first century in Russia.
Where? Coca-Cola Arena
When? Sat 11 March
Time? 8 pm
View this post on Instagram