Announcements
6.5-Magnitude Earthquake Tremors Were Felt In Dubai And Parts Of The UAE On Sunday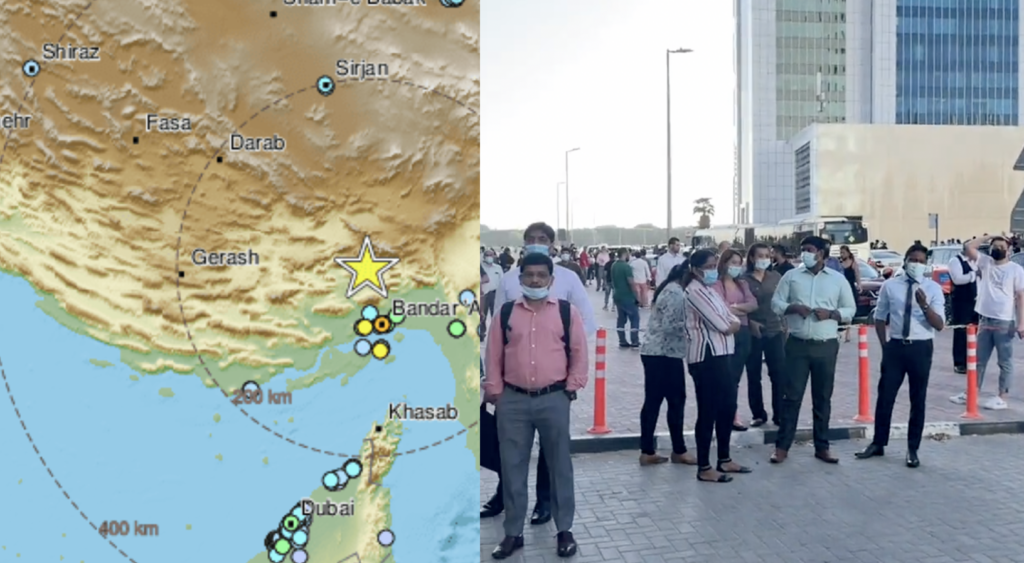 Mild earthquake tremors were felt in parts of the UAE at 4:10pm on Sunday, November 14.
According to the European-Mediterranean Seismological Centre (EMSC), the aftershock in the UAE was felt as the result of a 6.5-magnitude earthquake that struck Bandar Abbas in southern Iran.
Buildings in Downtown, Dubai and Al Nahda were being evacuated post the tremors according to residents in the area. High-rise tenants felt swaying and their monitors, desks, chairs and other heavy equipment tremble.
View this post on Instagram
Tremors were felt throughout the UAE, Qatar, Bahrain, and Saudi Arabia
Map of felt reports received so far following the #earthquake M6.0 in Southern Iran 41 min ago pic.twitter.com/k4DLvvrkSv

— EMSC (@LastQuake) November 14, 2021
Se registró #sismo en el sur de Irán con magnitud de 6.2 pic.twitter.com/ojBEoe07It

— Paola Rojas (@PaolaRojas) November 14, 2021
This footage from Bandar Abbas in south Iran shows dust rising from the hills and lorries swaying during intense 6.5 Earthquake
🎥 لحظه #زلزله ۶.۴ ریشتری در هرمزگان pic.twitter.com/OZ96nSzjrs

— خبرگزاری تسنیم 🇮🇷 (@Tasnimnews_Fa) November 14, 2021
This is a developing story.