Latest
6 Riyadh Cafes That Were Practically Made For Instagram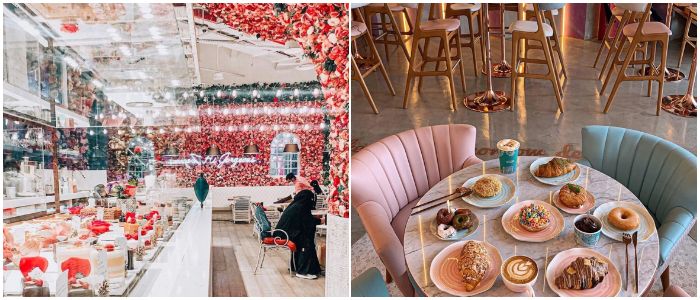 Are you that person that'll go anywhere or do anything for the 'Gram? Are you always that friend who is making boomerangs? Can't resist taking photos of your food? Good news if you're in or heading to Riyadh! Riyadh cafes are some of the most Instagrammable in the country with the prettiest latte designs, eye-popping interiors and mouthwatering treats.
Grab your phone and head to these top Riyadh cafes that were practically made for Instagram:
Equestrian chic meets Versailles at this regal establishment. They're known for their decadent chocolate treats which you can wash down with their delicious coffee– which fittingly will come decorated with their super Instagrammable logo. Come here for a fancy night out with friends and lounge around on the velvet sofas.
Iced coffee served in a transparent soda can? Yes, please. Don't miss the cake balls and also the red velvet latte is super pretty. But food and drinks aside, this place is seriously gorgeous. Turquoise and gold accents, mixed with cement floors and a graffiti wall makes for a mega cool ambience.
Obsessed with florals? You must visit the Secret Garden. This place has serious fairytale vibes, not only with the flower-covered interiors but with the most tempting menu options like the "Sleeping Beauty" mocktail, the carbon black latte, and of course rose and lavender lattes. Don't forget to take a photo with the cool neon signs.
You'll feel like a kid in a candy shop at this donut-slash-coffee shop. Everything is pastel coloured in this dreamy cafe, which serves up treats like a Fruit Loops donut, dalgona coffee and a birthday cake latte.
As welcoming and homey as its name suggests, Cozy is offering up heartwarming delights like hot chocolate piled high with mini marshmallows and a baklava ice cream. But the cosiest part is probably the seating options. Sip your drink while you sit on a swing or there's even a swinging bed if you need to recline after your sugar high. The twinkling lights in the ceiling are the perfect finishing touch.
You might leave this Korean-concept cafe a little dizzy, but it'll be well worth it. The cafe which is meant to look like a picture is designed to look like a 2D sketch. The all black-and-white interior makes the drinks and desserts pop even more. There's even a grand piano that's painted to make it look 2D. Super mind-bending but totally Instagrammable.