Food
7 Ramadan Foods We Wish We Could Have Every Single Day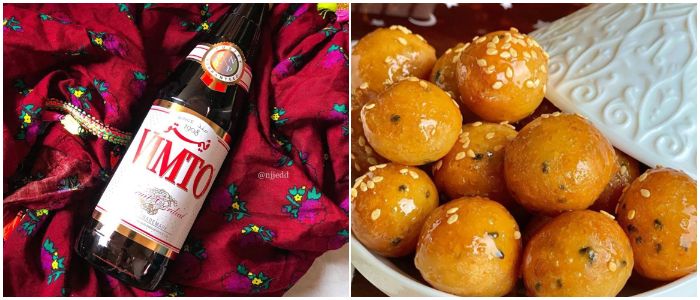 Ah, Ramadan. The holy month of cleansing your soul and body all day– and feasting all night long. Just kidding! But seriously, don't count on tightening up those belt notches just yet. You might be fasting all day long but a big part of the celebrations in most households has a major emphasis on yummy indulgent Ramadan foods for iftar. And fortunately for us (and unfortunately for our waistlines) it's the one time of year we can munch all evening guilt-free and without judgement.
Here are 7 popular Ramadan foods that are sure to be a staple at most Iftar tables:
7. Loqaimat
Move over Timbits and Munchkins– these are the original little round donut. These deep fried, syrupy round fritters are are delicious as they are cute and super popular around the Arabian Peninsula. Nowadays you can even find them filled with Lotus filling and Nutella.
6. Sambusa
There's just something about these folded little fried treats that makes you liable to fill up on these and skip your actual meal! The best thing about these little delights is that they can be either sweet or savoury — meaning they'll always satisfy your cravings especially if you want a little crunch.
5. Qahwa
When you're staying up till the early morning hours, Arabic coffee is your best friend. Served in small cups, it's hard not to keep drinking refills. A milder taste than traditional black coffee, it still packs a punch of caffeine to get you through the night or those taraweeh prayers.
4. Vimto
Whether it's fizzy or flat, it just wouldn't be Ramadan without this popular purple drink. We're not sure exactly what's in this "fruit cordial" but it's darn delicious and is perfect for quenching the post-fast thirst. It's so popular in fact that spinoff products have started popping up in the market like Vimto gummies and ice lollies.
3. Dates
Locally grown in Saudi, dates are the way to break your fast. They're rich in fiber and help your body recoup after a long day without food or drink. Whether they're stuffed with nuts, candied ginger, or covered with chocolate, these are the perfect little snack you can keep popping in your mouth all evening long.
2. Rooh Afza
Sorry Starbucks– this was the original pink drink. A staple in South Asian households, Rooh Afza the bright red rose flavoured syrup has become popular in Saudi and is seen all over supermarkets in Ramadan. Drink it with water, milk, or even in a milkshake. Yum.
1. Shorbat Habb
The ultimate comfort food this grain and meat soup warms the heart and your belly too.