Latest
The Colors Of Ceremonial Carpets Are Changing And It Makes Complete Sense Why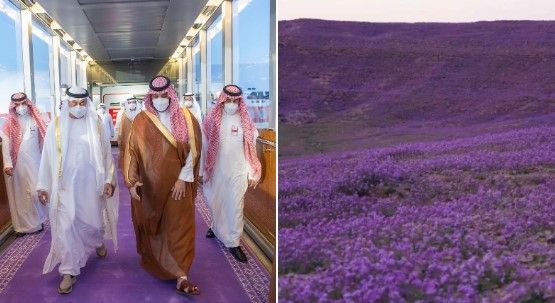 Saudi Arabia has announced that it is changing the color of its ceremonial carpets from the traditional red to lavender.
This move is designed to celebrate the nation's identity
This is because lavender is associated with blossoming wildflowers that carpet the Kingdom's desert landscapes in the spring.
It is also a symbol of Saudi generosity.
المملكة تختار اللون البنفسجي لوناً معتمداً لسجاد مراسم استقبال ضيوف الدولة الرسميين من رؤساء ووزراء وسفراء، ومُمثلي الدول الشقيقة والصديقة.https://t.co/jJdW4emTS0#واس_عام pic.twitter.com/dIvoVopBHv

— واس العام (@SPAregions) May 5, 2021
The initiative, a partnership between the Ministry of Culture and Royal Protocol, reflects the transformation of the Kingdom and is driven by Vision 2030.