Latest
10 Celebrities Who Visited Saudi Arabia And Loved It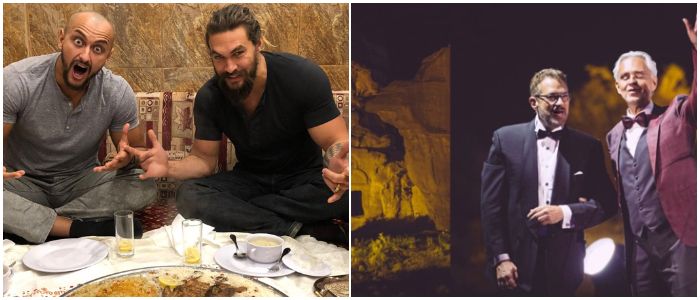 Saudi's have always known how special their country is and the world is quickly finding out, too! Lots of celebrities who visited Saudi in the recent years have talked about how special the people are and how beautiful the Kingdom is.
Here are 10 celebrities who visited Saudi Arabia and absolutely loved it:
10. Lionel Richie
The legendary crooner performed in Al Ula in early 2020. "Let me just say first how beautiful that place is," Richie told Arab News. "The Kingdom is just one of those places where you can have a fabulous concert. And now that the doors are open it is opening up."
9. Jason Derulo
The R&B singer told crowds at an Ad Diriyah Festival concert that performing in Saudi Arabia was "a dream come true."
8. Steve Aoki
The popular DJ performed in Jeddah and Riyadh and said he loves the people of Saudi, adding that they're beautiful and kind. Feeling the love, Steve Aoki.
7. Black Eyed Peas
The popular pop group called being able to perform in Saudi a "blessing," adding their reaction to being asked was "Shukran. Yalla!"
6. Jason Momoa
The "Game Of Thrones" actor attended Saudi Comic Con in Jeddah and loved feasting on traditional Saudi cuisine including kabsa.
5. Ryan Philippe
The American actor attended the MDL Beast festival and said he loves different cultures.
4. Paris Hilton
The heiress said she was taken by how "sweet and welcoming" the Saudi people were, adding that the country is beautiful.
3. Ian Somerhalder
The actor attended Jeddah's Saudi Comic Con and told Saudi Gazette "To be here is amazing, just incredible, the people, the community, the history. I feel so welcomed and so at home and so at peace."
2. Alicia Keys and Swizz Beatz
A video of the songstress performing an impromptu set at a school in Al Ula and serenading the students with her famous "This Girl Is On Fire" went viral last month. She's performed in Saudi before and her husband, rapper Swizz Beatz even owns his own camel racing team in the Kingdom.
1. Andrea Bocelli
The legendary tenor performed last month in Al Ula calling the historic region "an archaeological paradise of overwhelming beauty," and said performed there was a privilege.
READ NEXT: Get Ready Saudi Tourist Visas Are Coming Back!