Makkah
It Is Drizzling In The Holy Capital And Is Also Expected To Rain In Other Parts Of Saudi Arabia Over the Weekend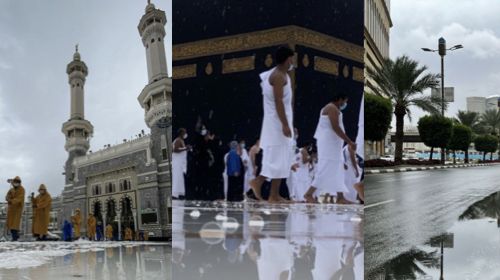 Weather warnings have been issued for several regions across Saudi Arabia lasting until Saturday.
Saudi Arabia's civil defense sent out an SMS to all residents and citizens warning them
The civil defense called on everyone to be wary of the severe conditions, to stay away from places that could flood, and to abide by the civil defense's instructions and updates announced through media and social media outlets.
The authority warned of thunderstorms with light to moderate rain and brisk winds in the capital Riyadh, Makkah, Madinah, the Eastern Province, Qassim, Tabuk, Hail, the Northern Borders Province, and Jawf. It also warned some areas will experience heavy rain that may lead to torrential flows and flooding.
The civil defense also warned of thunderstorms with moderate rain and brisk winds in Al-Baha, Asir, and Jazan.
On Friday morning – just before prayers – Mecca saw some light drizzling and winds.
Beautiful view during the rain in Makkah. 😍
May Allah make this rain a mercy for all of us.
May God bless the people of Pakistan and Saudi Arabia.

🇵🇰❤️🇸🇦#جده_lلان#امطار_المدينه#مكه_الان pic.twitter.com/UKEblxECfB

— قاري محمد صديق الازهري (@iamqarisiddique) February 5, 2021
Beautiful
امطار مكه اليوم ، اللهم اجعل لنا زياره لها قريبًا ❤️#مكه_الان #امطار_المدينه pic.twitter.com/kvP7TNYOMl

— 𓆩REM𓆪 (@reeo12e) February 5, 2021
https://twitter.com/Majed_Qahtani1/status/1357629508938063872