Announcements
UAE Official HH Sheikh Abdullah Receives The COVID-19 Vaccine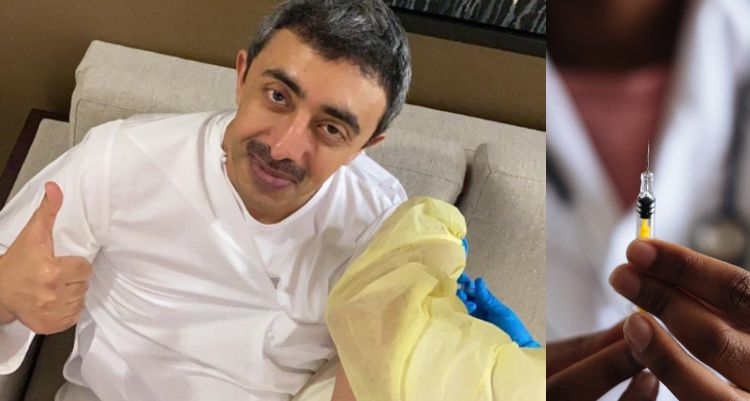 His Highness Sheikh Abdullah bin Zayed Al Nahyan, Minister of Foreign Affairs and International Cooperation, took to his official Twitter handle to share this picture of himself receiving the COVID-19 trial vaccine.
Apart from HH Sheikh Abdullah, a number of other top officials in the country have also received the coronavirus vaccination, to help them build antibodies against the SARS-CoV-2 virus.
This follows the success of Phase I and Phase II vaccine trials conducted by Sinopharm in China, the country from where the virus originated.
Corona vaccination is our way to return to normal life
Read the caption on HH Sheikh Abdullah's tweet.
The UAE previously announced that the government will be administrating COVID-19 vaccines for emergency cases and frontline workers who regularly come into contact with COVID-infected patients
التطعيم عن كورونا طريقنا للعودة للحياة الطبيعية #تم_التطعيم pic.twitter.com/nl5uZSs3cI

— عبدالله بن زايد (@ABZayed) October 16, 2020
HH Sheikh Abdullah was just recently in Berlin to sign the Abraham Accords Peace Agreement
Where the UAE official made his statements jointly with Heiko Maas, Foreign Minister of the Federal Republic of Germany, and Gabi Ashkenazi, Foreign Minister of the State of Israel.
ALSO READ: There Was A Historic Moment In Berlin When The UAE Had Its First Meeting With Israel
Also, some passionate healthcare volunteers are also sharing advice that might come in handy for people who are looking for more info
and no, the test isn't painful. It's just mildly uncomfortable. It feels like someone is tickling underneath your eye 😂

— Lucifer (@Rhegrus) May 2, 2020
ALSO READ: UAE Volunteers Are Stepping Up And Sharing Their Journey From The COVID Vaccine Trials