Latest
There Was A Historic Moment In Berlin When The UAE Had Its First Meeting With Israel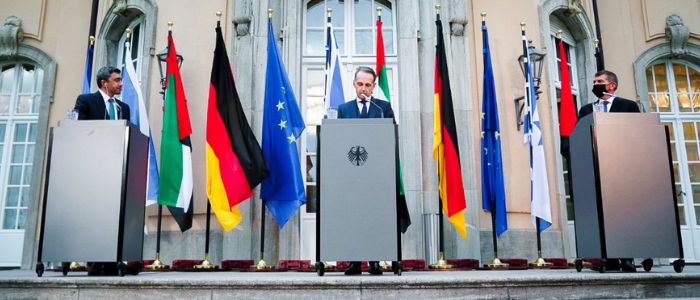 Peace and harmony are more needed than ever in 2020 and the UAE has been making conscious efforts towards the same.
UAE's Minister of Foreign Affairs and International Cooperation, HH Sheikh Abdullah bin Zayed Al Nahyan was in Berlin on Tuesday and stated that the Middle East entered a new era towards security and prosperity after the signing of the Abraham Accords Peace Agreement.
The agreement was signed back in September to mark peace and bilateral relations between UAE and Israel.
Sheikh Abdullah made his statements jointly with Heiko Maas, Foreign Minister of the Federal Republic of Germany, and Gabi Ashkenazi, Foreign Minister of the State of Israel
Für langfristige Stabilisierung und Frieden in der Region ist eine Lösung des Konflikts zwischen Israel und den Palästinensern eine Voraussetzung. Gemeinsam mit unseren Partnern sind wir bereit, einen solchen Weg zu begleiten. pic.twitter.com/UHZidpbATI

— Heiko Maas 🇪🇺 (@HeikoMaas) October 6, 2020
Sheikh Abdullah started his address by mentioning the peace made in Berlin three decades ago
First of all, I would like to thank my friend Heiko Maas for our fruitful and constructive discussions today, and for hosting my first meeting with my new friend Israeli Foreign Minister Gabi Ashkenazi. Three decades ago, history was made, as the people of Germany united the city of Berlin. And here we are today; making history, once again in Berlin,
via @WAMNEWS_ENG
During his visit, Sheikh Abdullah also visited the Holocaust Memorial in the city
Listen To The Lovin Daily: Next UAE Public Holiday To Arrive In Less Than Three Weeks!