Dubai
Dubai's Ruler Paid Tribute To Late Pioneering Physician Dr. Joseph Baron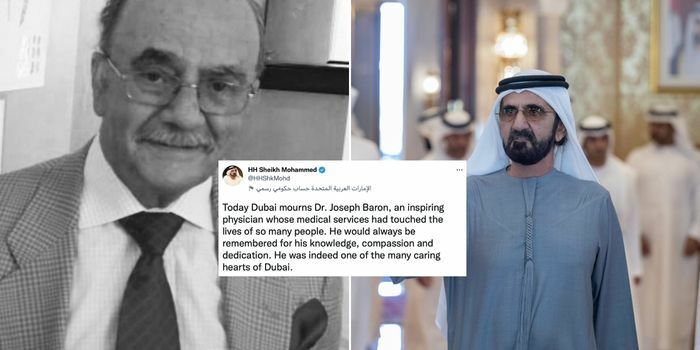 Dubai's Ruler Paid Tribute To Late Pioneering Physician Dr. Joseph Baron
His Highness Sheikh Mohammed bin Rashid Al Maktoum, Vice President of the UAE and Ruler of Dubai, tweeted a heartfelt tribute to late physician, Dr. Joseph Barron, on Friday.
Dr. Muscat-Baron was a part of medical education for more than 45 years, where he even held numerous teaching appointments in the UK prior to his move to the UAE.
The late physician came to the UAE in 1977 and has since been a revered member as Head of the Higher Education Committee of the Department of Health & Medical Services (DOHMS), helping enable thousands of medical students in the UAE to complete their education, without the need for travel.
Dubai's ruler paid tribute to the late physician in a tweet:
"Today Dubai mourns Dr. Joseph Baron, an inspiring physician whose medical services had touched the lives of so many people. He would always be remembered for his knowledge, compassion and dedication. He was indeed one of the many caring hearts of Dubai."
Today Dubai mourns Dr. Joseph Baron, an inspiring physician whose medical services had touched the lives of so many people. He would always be remembered for his knowledge, compassion and dedication. He was indeed one of the many caring hearts of Dubai. pic.twitter.com/4FbnC9NJWs

— HH Sheikh Mohammed (@HHShkMohd) November 25, 2022