Expo 2020
The 8 Coolest Things You NEEEED To See At Expo 2020 Dubai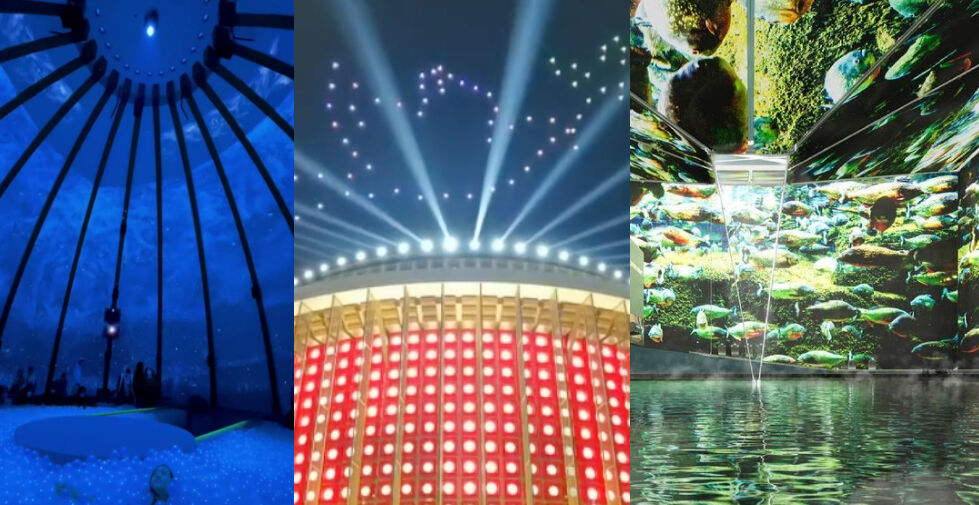 As of the middle of November, more than 3.5 million visitors have passed through the impressive Expo gates, and no brownie points for guessing why.
The number of swanky attractions at the world's greatest cultural gathering is UNREAL! The Expo is bursting with smart, ultra-tech, sustainable and immersive activities that you just have to experience in person to truly feel its magic.
Here is just a glimpse of the 8 top attractions at Expo 2020 that are a MUST visit during your next trip!
View this post on Instagram
8. A unique immersive water experience awaits at the Hungary Pavilion
Enjoy an immersive water experience at the Hungary Pavilion (without getting wet) and watch the dome above you illuminate with dreamy visuals.
View this post on Instagram
7. Spectacular light shows at the China Pavilion
This daily 10-minute show, from 8pm, combines multiple forms of technology, such as artistic lighting, LED imagery, and drones to present a dynamic and colourful show.
View this post on Instagram
6. Ride gravity-defying waves at the magical Waterfall Feature – located between Al Wasl Plaza and Jubilee Park
At night, cascades of colour accompany the water as it appears to flow upwards.
View this post on Instagram
5. Touch a piece of the moon at the USA Pavilion
Other out-of-this-world artifacts include a Martian meteorite, a scale-by-scale model of the Mars Opportunity Rover built by the students of Cornell University, and a 43 metre-tall model of the SpaceX Falcon 9 rocket.
View this post on Instagram
4. Take a leap of faith and slide down the GIANT slide at the Luxembourg Pavilion!
Tip! This is the only pavilion with a slide.
View this post on Instagram
3. Go for a swing at the German Pavilion!
Fun fact: The German Pavilion was built at a cost of 50 million Euros in the Sustainability District and is designed to look like a university 'campus' where visitors are enrolled in a sustainability course.
The pavilion consists of 90 swings with the intention of showing visitors that much more unites them than divides them.
2. Experience an indoor rainfall at the Netherlands Pavilion
The indoor rainfalls at the Netherlands Pavilion are made from harvesting water from the air! The pavilion also grows its own food and creates energy with its own solar panels.
View this post on Instagram
1. An entire lagoon awaits you at the Brazil Pavilion
The Brazil Pavilion appears to be floating on water with the help of a heavy steel structure and lightweight white fabric onto which videos are projected for an immersive atmosphere
Get proper Amazon rainforest feels down at the Brazil Pavilion, which has a shallow water blade occupying half of the structure's area.
View this post on Instagram
Intrigued? Get your Expo 2020 tickets right here.
Dates? Expo 2020 will be running until March 31, 2022
Timings? Open seven days a week
Saturday to Wednesday: 10am to 12am
Thursday and Friday: 10am to 2am
For more deets on exhibits, pavilions, shows, entertainment, restos, panels and more, click here.
Watch the Lovin Show: UAE COVID UPDATES: Face Masks Are Staying Put As Worrying COVID Variants Spread Internationally
Follow the Lovin Dubai live blog for all the latest EXPO 2020 Dubai updates