Best Of Dubai
10 LIT Deals On Activities Around Dubai For The Long Weekend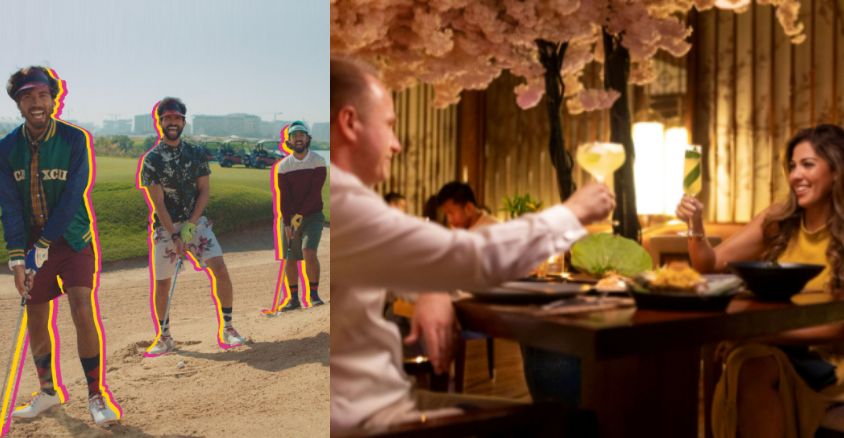 AHHHHHHH ASDFGHJKL another long weekend!! It's weekends like this you wanna get all the wild, adventurous, yolo-esque plans out of the way and reboot yourself for the long week ahead. Ya'feel? Ofc you do.
Long weekends are absolutely not made for you to sit at home and flonk around, so get booking and set out for a baller of a time around town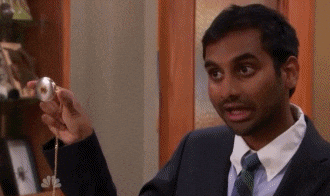 10. Scale a virtual peak with Team Angel Wolf!
It's the last weekend of the month, and you know what that means… It's the Team Angel Wolf World Tour!
The Dubai family who DOES NOT STOP are back, inspiring and motivating others to get moving from wherever you are in the world. This month, they're taking on Europe! So choose your peak, and take on the challenge.
Share your journey with them #ClimbWithRio
View this post on Instagram
9. A staycay for the ages at Yas Plaza Hotels in Yas Island
This fance shamce hotel boasts incredible and unbeatable deals for every type of staycationer.
A staycay at the hotels down at Yas Plaza start from as low as AED199! Radisson Blu, Crowne Plaza, Rotana & Centro are ALL offering amazing getaways plus a chance to win roundtrip Etihad Airways flight tickets to anywhere around the world!
A quick look at the packages available for staycationers:
Brunch Aficionado: This epic weekend includes a hotel stay plus Friday brunch for two!
The Adrenaline Junkie: This Yas Island Adventure Package includes access to Ferrari World, Yas Waterworld or Warner Bros. theme parks
Certified Shopaholic: Get AED300 worth of Yas Mall shopping vouchers & free breakfast when you book this staycation offer
The Summer Daycationer: Get a day-use room plus complimentary pool & gym access!
All staycationers get FREE Yas Beach access, a shuttle to Yas Mall and theme parks, and a 15% discount on F&B and spa! Kids go FREE!
Check out yasplazahotels.com/staycation or their instagram page for details.
8. A Vibrant Vietnamese Evening Brunch on Thursdays
Thursday evenings are for Saigon Social ✌🏼.
Blue Jade has launched a Thursday evening brunch that'll legit leave your soul levitating: Saigon Social. Where you'll be served Vietnamese delicacies prepared wholesomely by chef Ta Van to stimulate your tastebuds.
If we had to describe this evening brunch in three words… we would say:
Vibrant, aromatic and cathartic!
Your romance with Southeast Asia starts with a complimentary egg coffee upon arrival (YUM), and ends with sweet delights such as Nem CuỐi Chiên (Crispy Banana Spring Roll), and Xoi Dua (Pandan sticky rice with coconut milk) served up alongside exotic fruit platters will arrive in record time to spoil your tastebuds silly.
Where? Blue Jade, The Ritz-Carlton, Dubai, JBR, Jumeirah Beach Residence
When is the Saigon Social evening brunch? Every Thursday, from 8 pm – 11 pm
*From 12 years old and above.
For reservations call +97143994000 or email dine.dubai@ritzcarlton.com.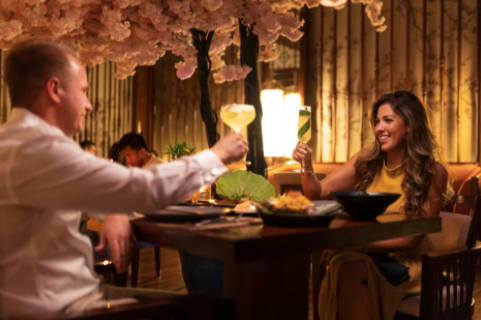 7. Get Lucky with Dukes the Palm
Ohkay this is kinda exciting! 15 lucky guests who've stayed at Dukes the Palm, A Royal Hideaway Hotel will get picked at random each day to book and indulge in a relaxing getaway at Dukes the Palm for only AED299 per night.
The rooms are equipped with a king-size bed or two single beds and include premium quality toiletries, a flat-screen TV, and a large wardrobe. Totes worth booking for a romantic date night with boo.
Offer Valid until September 9.
View this post on Instagram
6. A special limited-time Biryani festival across all 12 India Palace branches
Celebrate the long weekend in true foodie style and indulge in India Palace's Biryani Khaas Festival! The sheer variety of biryani at the award-winning authentic Indian restaurant will have you WEAK.
What's on the biryani menu?
N

oor Mahal (AED 42)

Raan

(AED 150)

Shahi Jheenja

(AED 79)

Lucknow Murg

(AED 46)

Subzi Qabuli

(AED 36)

Coorg Murgh

(AED 46) 
For bookings call 042869600. Or for more deets, click here. 
View this post on Instagram
5. Unlimited food and drinks at Just Vegan Jumeirah for AED49!
Go on an empty stomach and feast on delish, wholesome and UNLIMITED food from Just Vegan for AED49 this weekend. SCORE!
The botanical interiors, friendly staff, positive vibes and yummy eats will get you hooked on to the resto like nobody's business.
Just Vegan Jumeirah's Brunch is a perfect treat for vegans as well as flexitarians and people exploring vegan options. 
Weekend special unlimited offer on Thursday, Friday and Saturday.
Price? AED49
Where? Villa 575, Jumeirah Road, Umm Suqeim 1, Dubai
For reservations call 045463392
View this post on Instagram
4. Sizzling Wok
Head to sizzling wok for amazing street style interiors paired with out of this world pan-asian inspired food and drinks. Whether you wanna have a business lunch or a fun night out with mates, this is the perfect spot for every occasion.
Location? Business Bay, Dubai
Price? Offers for Zomato Pro, Entertainer, Business Lunch, Thirsty Lunch Deal, Ladies Night.
Date?  Every day
Time? 12pm to 3pm and 7pm to 11pm
More info here.
View this post on Instagram
3. Celebrate India Independence Day At BOLLYWOOD PARKS™ Dubai for AED99
It's almost that time of the year again when Indians celebrate their country's history and their independence! It's a month of pride and so much positivity, a time when you go back to your roots and salute the country's many achievements.
Have your hands out SRK and celebrate the joyous occasion of India Independence Day the filmiest way posssss at BOLLYWOOD PARKS™ Dubai.
Price? AED99 – When you book tickets from August 8-12 and visit the park until August 31, 2021.
*While you book, select the date of your visit to the park.
Get your tickets right HERE. For more deets, call 8002629464. 
View this post on Instagram
2. The Yas Island Stayin' on Yas staycay will blow the bejesus out of you!
A holiday on Yas Island means: all day at the record-breaking theme parks, shopping all night, golfing, climbing, and finally chilling at the luxury hotels, and the internet is feeling this vibe!
In case you missed it: The Yas Island Stayin' on Yas video has racked up millions of views
1. Get eatin' at EETEN Urban Kitchen for a flavoursome weekend
EETEN Urban Kitchen, the all-day eatery at Marina Mall, has added a Tenderloin Sando to the menu and it's a must-try!
Grilled beef tenderloin, baby rocca, sun-dried tomatoes, fried onions, truffle sauce, truffle oil and melted Parmesan cheese in between toasted brioche bread…AAHHH screaming RN!!!
Served with a side salad, this happiness in a sandwich experience is just AED84.
EETEN is located on the ground floor of Dubai Marina mall and serves all-day breakfast, lunch, and dinner as well as speciality coffees and freshly baked pastries.
Check out their 'gram right here!