Best Of Dubai
The Top 10 Best Burgers In Dubai In 2019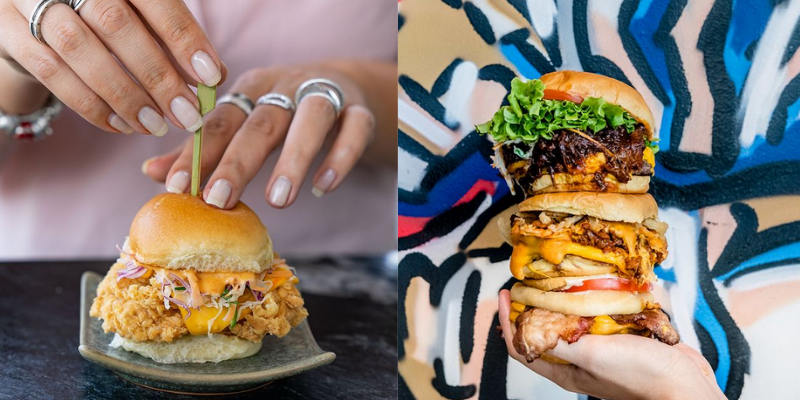 The Top 10 Best Burgers In Dubai In 2019
This might get ugly.
The 'best burger' in Dubai is an extremely contentious subject, EVERYONE has an opinion, so rest assured, the decision for number one was not taken lightly.
But this list needs to happen. Why? Because UAE restos have upped the artistry of burger making, taking a humble dish (it's just some meat with a bun right?), to a whole other level, where each ingredient is meticulously chosen to bring you something beautiful.
Read more: Spread Hummus Not Hate!! Top 10 Hummus Spots In Dubai
Drumroll please for the best burgers in Dubai
But the best part? Pricey eateries did not prevail. Not a single fine-dining resto made the list, these are all walk-off-the-street burger spots and they've all got something in common: They serve up WHOPPER burgers, and for that, Dubai thanks them.
How did Lovin Dubai choose the final list?
Finalists were selected from all across Dubai
Online reviews, previous media coverage and notable blogs were also included in the overall rating
The final list is subjective – if we've missed out on any must-try places across Dubai, please do let us know!
The brand's social media audience and engagement were considered
New to town, but this oozes with London street cred, where the resto originates.
The point of this place is to give you bitefuls of flavour in the form of creative sliders and it does not disappoint. The usual sliders set you back for AED40, but for real mouth-dripping, food-coma inducing burger love you need to step it up and go for The Duke. AED55 might be a lot, but this is serious slider heaven with wagyu beef, brie, mushroom, truffle, avo' and Japanese mayo.
View this post on Instagram
Petition to get this spot a Dubai branch….
*This will be the only non-Dubai outlet to get a mention, but there's an exception to every rule and once your mitts get to grips with these burgers, you'll understand why.
Burger 28 is an Abu Dhabi burger spot which focuses on bringing you the ultimate in comfort food. The team consistently serve up whopper, juicy, cheesy, melt-in-your-mouth burgers. Added points for good value, the 'OG' burger here is AED38.
View this post on Instagram
Another import (Blaze Burgers are legendary in Bahrain), this fixture on JBR made an impact as soon as it arrived.
With a mission to bring you beautifully crafted burgers, this industrial vibes spot is all about the 'make your own burger' concept.
And don't be put off by the 'do it yourself'. The staff are super attentive and although the choice of condiments to add to your burger can be overwhelming, we promise you the choices are heavenly and even going for the simple, 'The Blaze Original' with lettuce, tomatoes, pickles, ketchup, mustard, homemade pickled onion, cheddar cheese and burnt cheddar… you will not go wrong.
I mean, if a burger looks this good, how could you not?
View this post on Instagram
There are a couple of chain restaurants on this list, but don't hate the chain, hate the game.
With chain restaurants, you know exactly what you're getting. Especially now with many fast-food options promoting prime beef in their patties, you're still getting high quality at a more affordable price, and lets be honest…. a wholeeee lot more taste.
At Burger Fuel, we reckon it's the sauce that takes these beauties to another level.
View this post on Instagram
You've got to give it to the guys at Slider Station, there were the OG of the conveyor burger belt in Dubai and they've proved time and again it's no gimmick with a seriously impressive menu of classic and gourmet sliders.
Drippy, creative and tasty, if you've not yet taken the opportunity, just GO!
View this post on Instagram
A bonafide beast of a burger. The Jones the Grocer signature wagyu beef burger comes on a brioche bun with the mosttttt delicious sauce, the addition of melted truffle brie (AED18 exxtra) although pricey, it's hella' worth it for a memorable feed.
Little known fact: Jones have expanded into the slider market, you can get either wagyu sliders or crispy chicken sliders and these are just as dreamy as the main event.
View this post on Instagram
A higher-priced burger-joint with a grungy edge; the reputation of Black Tap for mighty burgers and monstrous shakes preceded its arrival in Dubai, and the hype was very real. If you're into burgers you can't fit in your mouth – go here.
Prep yourself for a serious feed: these 'craft burgers' are inventive and there's a whole mix of options from the falafel burger or vegan option to the thoroughly delish 'pizza burger;, but if you're looking for a burger that'll change your life choose, 'The Greg Norman'. Wagyu beef, butter-milk dill, blue cheese on argula – *serious drool.
View this post on Instagram
All hail mighty Salt.
Salt is a home-grown brand that built a name for itself through clever marketing and some tasty, tasty sliders. Mouthfuls of deliciousness, the simple menu is all about quality, not quantity and there's reason this high on people's recko lists when you ask them about best burgers in Dubai.
View this post on Instagram
Five Guys are an American burger chain and the buzz is real. They promise fresh ingredients, and a mountain of food and it never disappoints. Famous for giving you 'real' food, despite its fast-food esque style eatery, Five Guys always ups the game for quality.
Five Guys were the winners of the Lovin Dubai Foodie Vote for burgers in 2017 – Never change guys!
View this post on Instagram
Brace yourself for number one: a complete newbie in town, but this spot is making waves for good reason
1. High Joint, Al Safa
This little-known Jumeirah spot serves up a flippin' fantastic burger menu. The 'millionaire's high' is a personal favourite… The burgers are juicy, they're a handful, and just basic burger goals.
And although this place is new the the scene (it only opened its doors in 2019) the burgers were eight years in the making from the passionate owner and we're calling it: these are the BEST BURGERS in Dubai right now.
You heard it here first.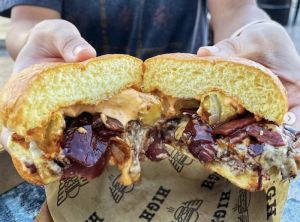 View this post on Instagram
You'll love this off-the beaten track spot – the food is UNREAL
View this post on Instagram