Best Of Dubai
You Could Literally Do All 5 Of These Things This Weekend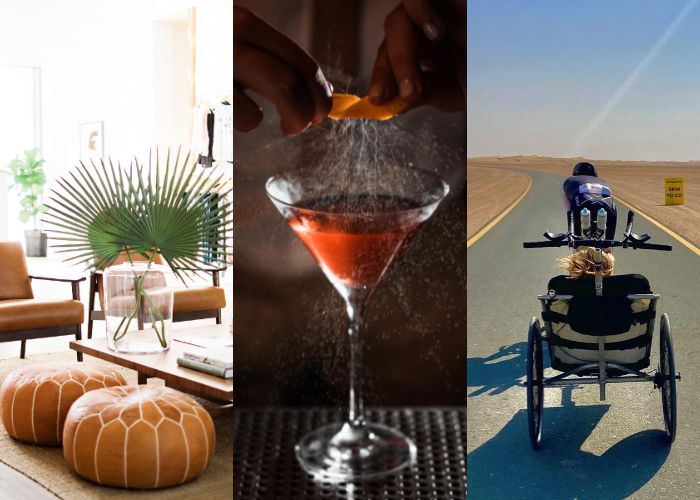 Weekend dance alert! Best things to do this weekend is within this article so scroll just a bit further. We've got you biking, brunching, relaxing and triathlon-ing, no it's not a real word.
Make the most of the days off with these amazing events!
Not forgetting COVID, the same rules apply. Avoid social gatherings, wear your mask and wash your hands.
Enjoy your weekend, y'all and above all else, stay safe!
5. Supporting Team Angel Wolf
Finding the motivation to keep on going for the Dubai Fitness Challenge could be challenging to some but we found just the people that can keep you getting involved! The Watson family are taking on a new challenge this DFC and are inviting you to join or support. So here's how it goes… Each day they take on one triathlon sport at 6AM and repeat until the 30 days are up. You too can follow along with their schedule and meet them there. Find out more by following their IG page @teamangelwolf
Their schedule for the weekend:
Thursday November, 19: Swim at Kite Beach (6:00AM)
Friday November, 20: Bike at Al Qudra (6:00AM)
Saturday November, 21: Run at Kite Beach (6:00AM)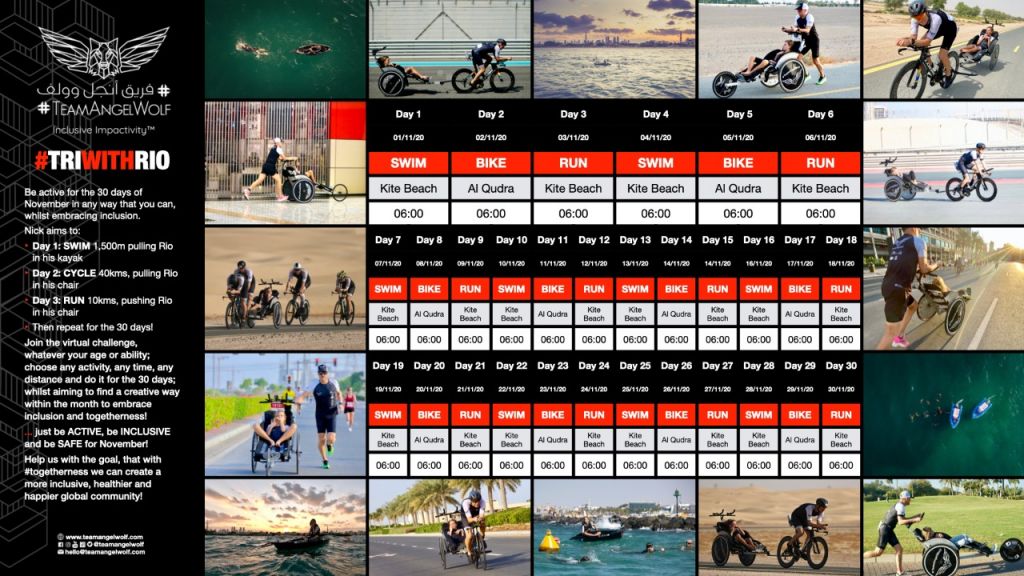 4. The historic Dubai Ride is near
Polish your bikes, grab your helmets and fill up your water flasks because Dubai Ride is a DAY AWAY!! It's the final countdown, people. Have you registered and collected your bib yet? Choose either the 4km on Sheikh Mohammed bin Rashid Boulevard in Downtown Dubai or 14km on Sheikh Zayed Road. Be part of the historic event taking place this Friday November, 20.
Please-oh-please stretch beforehand.
3. Friday Feels at Lookup Rooftop Bar, City Walk
Take a peak behind your sunglasses and the glistening Burj Khalifa and skyscrapers views as you munch on some truffle pizzetta, sweetening it up with ice lollies and sipping on flavorful Iced Teas or hops. Now that's Dubai living folks. Take a load off and join in on the Friday Feels brunch at the Lookup Rooftop Bar. If that wasn't tempting enough, take a dip in the pool, that's included in the package, and chill out to the beats by DJ Leon Knight.
Date: November, 20
When: Every Friday 2PM – 6PM
Price: AED 350 per person including pool access, unlimited food and beverages (no soft packages)
To book, click here!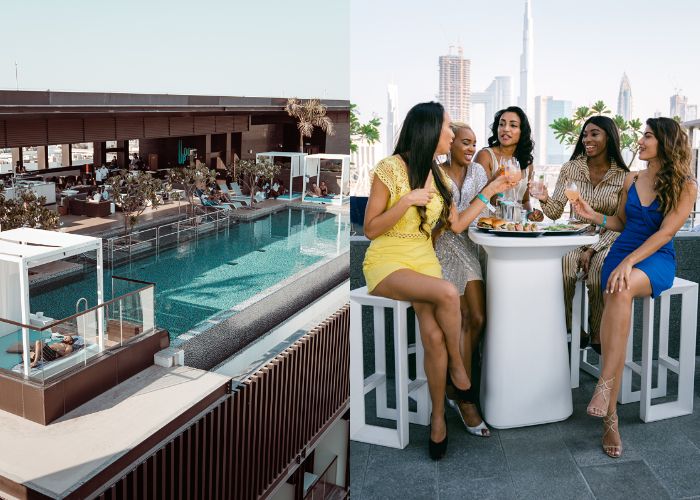 2. Terrace Time at La Cantine Du Faubourg
The cool breeze made its way to Dubai, which means the lush terrace of La Cantine Du Faubourg reopened. Tears of joy emerging. Adopting traits from its originally French origin, La Cantine Du Faubourg is a sensory journey you might want to take this weekend. Whether you're a workaholic who enjoys the occassional lunch meetings or a fun-loving person who enjoys spending evenings out, this place is calling for you. The bustling city crowds and noises are not a concern here, just indulge from the restaurant's full menu and take in the views from your table on the terrace.
Address: La Cantine du Faubourg, Jumeirah Emirates Towers, Dubai
To book, contact: +971 43 527 105
Operating hours:
Sunday – Wednesday: 12PM – 2AM
Thursday – Friday: 12PM – 3AM
Saturday Brunch: 12PM – 6PM | Dinner: 8PM – 2AM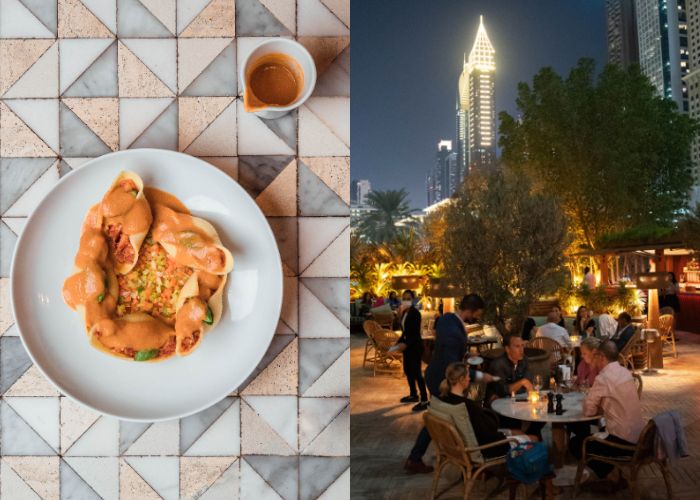 1. Positivity Talk at The Hundred Wellness
Fill up your weekend with the most thrilling activities and start the following week off with a clear mind. How you may ask? Attend the Positive Self-Talk Workshop at The Hundred Wellness Centre. It's all about increasing your self-confidence, encouraging positive self-talk and curbing negative thoughts in this interactive session. Look forward to Rapid Transformational Therapy (RTT) session and see what it entails. Breathe in and out.
Date: Monday, November 23
Time: 7pm
Price: Complimentary
Location: The Hundred Wellness CentreVilla #21
For more information and reservations please contact: 04 344 7333 or email info@thehundred.ae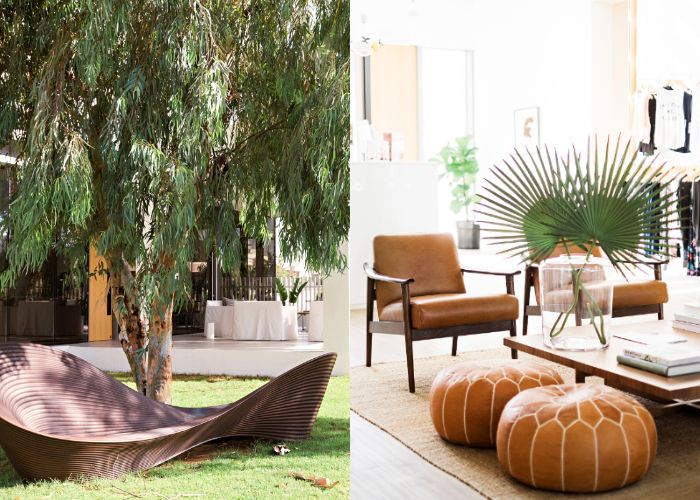 Listen To The Lovin Daily: A DJ Spent AED1 MILLION In ONE NIGHT At Five On The Palm