Latest
5 Picturesque Forts That You Absolutely Need To Add To Your Bucket List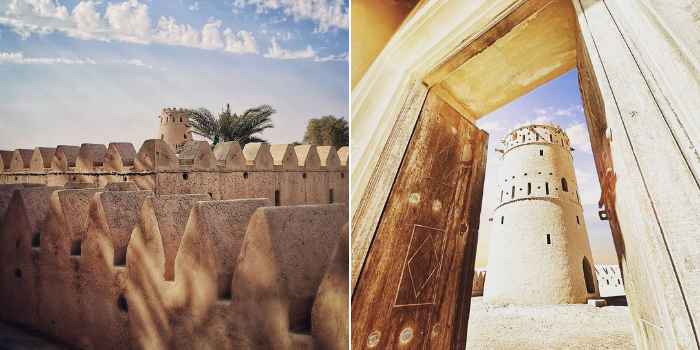 UAE is peppered with historic forts, there are so many to see, some popular, some not quite yet but all nonetheless that have got a story to tell. So we've handpicked some of the most picturesque forts in the country that you'll love even if you're not a history aficionado. Hurry up, the weather in this part of the world doesn't get much better than this.
1. Falaj Al-Muala
Sitting in the midst of an ancient oasis, the fort seems like it sprang right out of an Arabian Nights story. Potential movie shooting locale alert! It's been restored about a decade ago and is home to one of the few surviving ancient bathhouses in Arabia.
View this post on Instagram
2. Al-Jahili Fort
If you look closely at the Dh 50 note, you'll see that there's a fort on it – that the Al Jahili Fort. And, having it on a currency note shows its importance. It was built in the 1890s by Sheikh Zayed bin Khalifa as a home for the Al-Nahyan family. The fort has been meticulously conserved and provides a fascinating glimpse into life in the region prior to the oil boom.
View this post on Instagram
3. Fujairah Fort
How can we have any UAE forts' list and not have the Fujairah Fort on it? It is said that this is not only the biggest fort in the country but also its oldest, dating all the way back to the 16th century. You'll love the sights of the surrounding mountain range from here. On the whole, it's a great way to escape from the hustle and bustle of the city and one that's not too difficult to reach either.
View this post on Instagram
4. Liwa Forts
The ancient Liwa Oasis, which sits on the northern fringe of the Rub Al Khali Desert, is dotted with forts. The place is ideal for those looking for more of an adventure. Not many tourists visit here and that's precisely what makes this place extra special.
View this post on Instagram
5. Al-Hayl Fort
This fort is bound to give you those Aladdin vibes. It's a terrific way to gain a sense of what life was like in small communities in the past. The beautiful watchtower here will give you plenty of photo-ops. We forgot to mention, the view of the valley and village down below is just superb. You could definitely spend hours marveling at the scene. The calm and quiet here is an added bonus.
View this post on Instagram