Latest
This 20-Seater Restaurant Serves A 14-Course Menu That's Unlike Anything Else In Town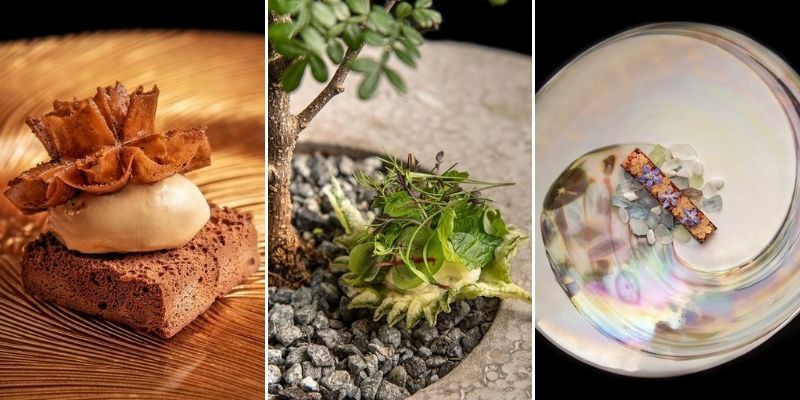 It was a Friday in Dubai and we were looking for a good curry. A few hours and a lucky booking later, we were seated in the Trèsind main restaurant, when one of the Trèsind team asked, "have you tried Trèsind Studio?" pointing at an unassuming door beyond the main restaurant.
Behind the door is a restaurant concept all of its own. It's a set menu, featuring 14 courses, and knowing little else, we walked in.
Trèsind is a homegrown eatery in the Voco Hotel on SZR that's managed to outlast many Downtown restaurants over the years. Helmed by Chef Himanshu Saini, one of the youngest chefs awarded as #75 by the world's Best Chef Awards, he's a trailblazer who's showing us the immense possibilities of modern Indian cooking, and his 14-course innovative Trèsind Studio menu is changing Dubai's perception of Indian food.
I've tried the 14-course menu twice and I have visitors coming to town next week, so I'll look forward to visiting a third time. It's really that good. It's a white table cloth situation, which makes it perfect for a special occasion.
Not only is each dish insanely good, but the presentation is fun and totally different from anything you've seen elsewhere in Dubai
View this post on Instagram
Trèsind Studio seats 20 people, it serves one set menu, which is exquisitely prepared in the bustling open kitchen, and served up by the knowledgeable team
On my first visit, my boyfriend complimented the joux and the waiter promptly produced a small warm flask for us to take home.
The service is phenomenal. Each course is served up with pomp accompanied by a small explainer of how it should be eaten and why it was chosen. Chef Himanshu Saini says it's impossible to put all of India in one menu, Indian cooking styles are by far one of the most varied with cuisines changing every 100km, but the Trèsind Studio menu attempts to show people the depths of Indian cooking in a modern way.
Aside from the veg/non-veg option, every diner in the restaurant cave is eating from the same menu, which means we're all on the same journey. The menu is changed up every four months, so if you've enjoyed the concept once, you've only got a short time to enjoy it before it's gone.
View this post on Instagram
Visitors to Trèsind Studio right now will be treated to Chapter 6 – Spice Odyssey
The spice odyssey begins with the menu and ends with the decor.
From the very first bite of pani puri made with sweet potato, preserved lemon and roasted cumin we were sold, and stand-out dishes include a chili jaggery chutney Duck leg confit and a filter coffee cornetto, chocolate ganache, miso caramel ice cream.
Chef Himanshu Saini says it's impossible to represent all of Indian cuisine on one plate, but Trèsind is continuously pushing the boundaries of traditional Indian cooking, encouraging the revolution, and showing us what the future of Indian cuisine will look like.
Dubai is choco-o-block filled with restaurants, but it's rare you can treat yourself to a culinary treat like this one. Go forth, enjoy and let us know your favourite dish!
View this post on Instagram
Treat yourself to "A small culinary tour of India"
The menu wants you to journey through regions and subregions of India on a modern plate.
View this post on Instagram
The important bits:
How much? AED495 per person
When? The Trèsind Studio menu is available Monday to Saturday from 6.30pm