Dubai
An Emirates Flight To New Zealand Had A 13.5 Hour Round Trip Back To Dubai After The Auckland Airport Closed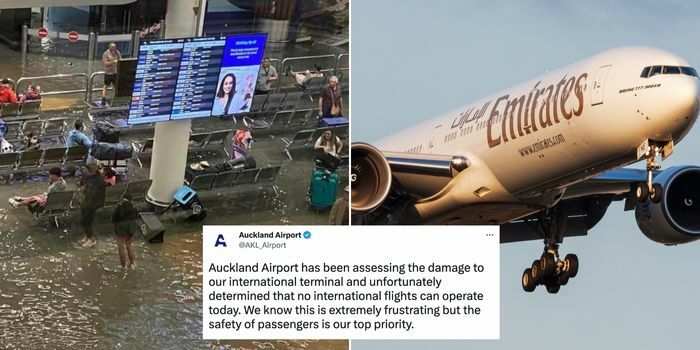 On Friday, An Emirates EK 448 flying from Dubai to Auckland had to cancel its journey midway and head back to Dubai because of the widespread flooding from the torrential rains in Auckland, New Zealand.
The passengers are said to have spent approximately 13 hours on the 'flight to no where'
The flight was an estimated six and half hours into it's journey and flying over the Indian Ocean before being forced to re route due to the dangerous situation in Auckland.
Not the longest flight in the world anymore, but this Dubai-Auckland flight probably feels like it today. With Auckland Airport closed due to flooding, Emirates decided to return to Dubai. Looking about a 13.5 hour flight from Dubai to Dubai. https://t.co/nMvFA5Wa9y pic.twitter.com/kZy29zzlbu

— Flightradar24 (@flightradar24) January 27, 2023
Keeping in mind passenger safety, Auckland Airport has cancelled all international flights until Sunday afternoon
The next Emirates flight is scheduled to take off on Monday, causing some inconvenience to passengers. However, Emirates passengers have reportedly received a 2-night hotel voucher.
Auckland Airport has been assessing the damage to our international terminal and unfortunately determined that no international flights can operate today. We know this is extremely frustrating but the safety of passengers is our top priority.

— Auckland Airport (@AKL_Airport) January 28, 2023
The torrential rainfall and flooding in New Zealand have resulted in the death of 4 people so far
The flash floods and landslides are being attributed to the effects of climate change.
Umm pic.twitter.com/lR9aQZDPGO

— David Cormack (@David_Cormack) January 27, 2023