Latest
There Was Applause All Around For The First Person To Buy Apple's iPhone 12 In Dubai Stores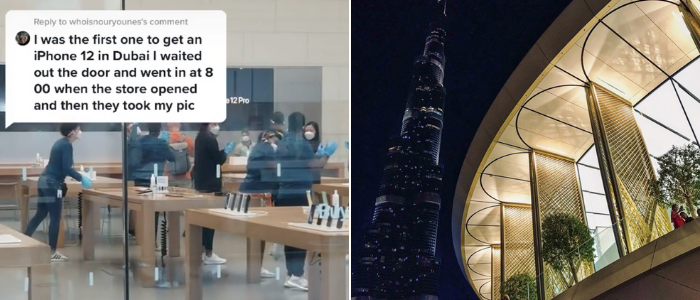 It's that exciting time of the year again! Festivities are around the corner and tech-heads have received their ultimate present of the year – the new iPhone 12. While pre-orders had begun a while ago, the new favorite was launched officially in the UAE Apple stores on October 23, 2020.
Launch day is always exciting with Apple as long queues and happy smiles are pretty much the general view all around. Even with COVID in our lives, the Apple store's staff made sure they created an amazing experience for their first buyer.
The staff turned into a cheering squad as the buyer of Dubai went in to buy the first iPhone 12 in the city
@mekhthapa0

Reply to @whoisnouryounes congratulations 👏👏👏👏👏👏👏
The lucky buyer waited in line and stepped in at 8am.
Safety precautions and measures look 100% in control as the employees are seen wearing proper masks and gloves. The iconic 'queue' also looks controlled as social distancing seems to be in place.
Overcrowding inside the store also does not seem to be a problem which is exactly what is needed during this pandemic 
Besides this shiny new toy, Apple also announced the release of other products. Out of those, the iPhone 12 Pro Max and mini can be pre-ordered starting November 6 and are expected to hit the stores on November 13. 
Keep your credit cards ready if you're looking to buy any of those first!