Announcements
Conor McGregor Hinted He Will Be Here Soon After A UAE League Player Did The Billionaire Strut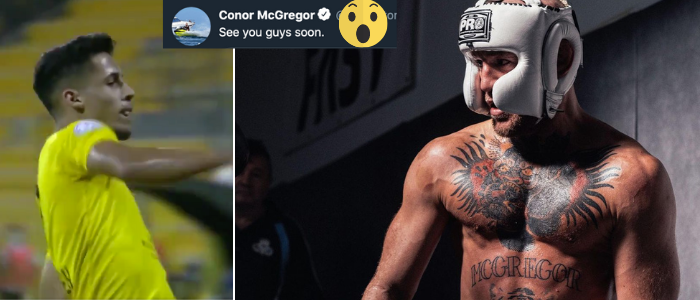 Everyone knows the strut. The Billionaire strut that belongs to the man himself, former two-division UFC champion, Conor McGregor. The champion uses the strut as a celebratory walk and has been popular for it for years now.
And while athletes and fans around the world have been mimicking and loving the strut, it recently made its way into the UAE
A recent vid of a footy player from the Arabian Gulf League has come up where he is seen celebrating his goal McGregor style.
The coolest part? Not only is it approved by McGregor himself, he even hints at seeing us soon!
As of Thursday, a rematch between McGregor and Dustin Poirer was confirmed for the upcoming UFC 257. McGregor is all set to come out of his retirement and fight Poirer out on January 23, 2021.
While spectators haven't been able to attend most sports this year, things like the IPL and the UFC went on smoothly in the UAE in 2020.
And if all goes well, reports say that this rematch too will be held RIGHT HERE in the UAE
McGregor's coach John Kavanagh also confirmed that he will be joining his Champ soon
Plans of pool parties concerts and three fights a week are being hatched
Dana White, President of the UFC said he is hoping to see fans there too.
So ready for 2021 to begin on this smashing note!