Coronavirus
COVID Updates: People Not Wearing Masks Is One Of Top COVID Violations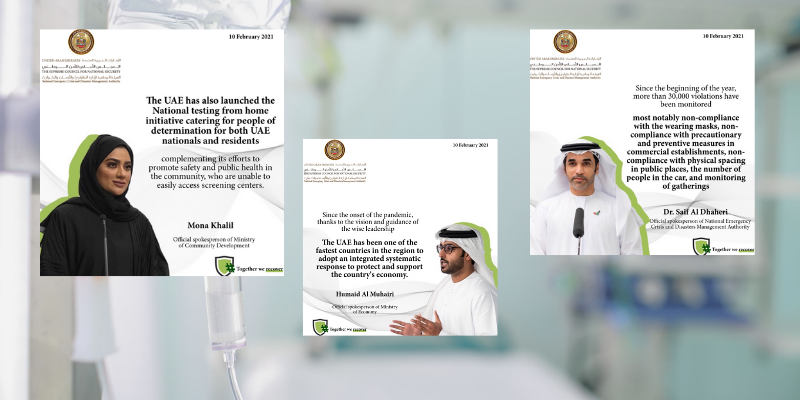 The latest COVID updates in the UAE…
Last night, there was a special COVID updates media briefing which included updates from health, economy, society and government sectors.
There was a resounding positive theme, with the government announcement free meals for families, highlighting the incredible vaccination drive, announcing at-home tests for the elderly and stating the high volume of COVID violaters who have been apprehended since the beginning of the year.
The COVID updates focused on 4 key sectors and all the details can be found here…
30,000 violators have been snared since the beginning of the year
The key takeaways from NCEMA include:
The UAE

proved its readiness, through managing the largest volunteering program, which supported the efforts of our first line of defence & promoted a culture of virtual volunteerism to help the community.

The

#UAE

has developed many specialized programs by experts with the aim of providing psychological support to different groups of society in the belief in the importance of mental health

The UAE has launched the National testing from home initiative catering for people of determination for both UAE nationals and residents, complementing its efforts to promote safety and public health in the community, who are unable to easily access screening centers
People not wearing masks, not keeping physical distance, and the numbers of people in cars are the biggest contribution to violations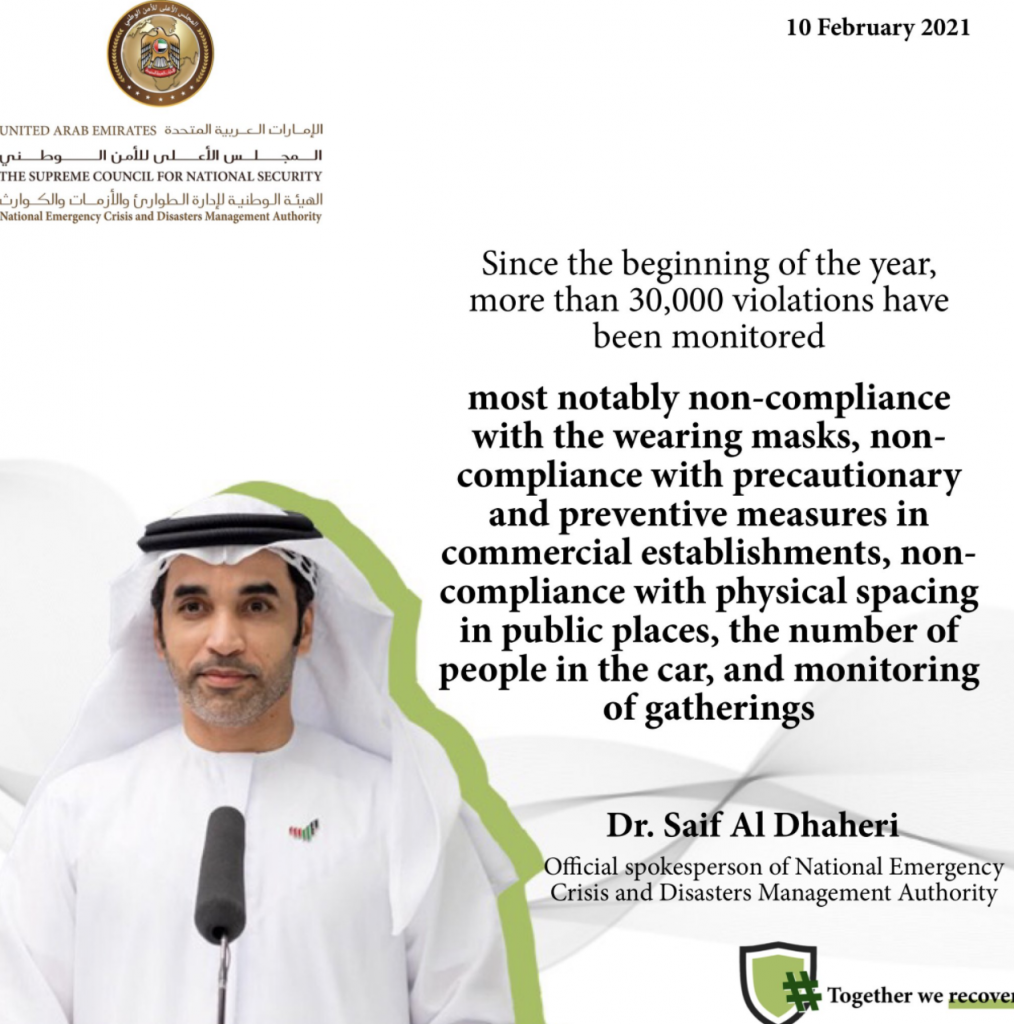 The national testing at home initiative will cater for both residents and nationals and people of determination
With the announcement of new strains of the virus around the world, the U

AE

's track and test approach have been developed to ensure that these cases are monitored.

The UAE

has an advance health care system, it has succeeded in establishing & rehabilitating hospitals and providing them with all the help to deal with potential cases of infection, and to conduct the necessary medical tests for the largest population.
The economy sector has proved its ability to overcome crises in the past decades' thanks to its diversity, competitiveness and development of new infrastructure
The UAE

ranked first in the Arab world and second world-wide in the government's response to the closure due to the global spread of the pandemic and its impact on the entrepreneurial sector, according to the recently released Global Entrepreneurship Index 2020.

In October 2020,

UAE

ranked first in the Arab world in the

Covid

-19 pandemic Economic Recovery Index, released by the Horizon Research Group, made up of a panel of experts from the United Nations and the World Economic Forum.

The

UAE

has come a long way in the recovery process, and the total economic support packages and initiatives provided by the federal and local governments since the beginning of the pandemic to date have reached a total of AED 395 billion
The health sector said cases and fatalities have increased and it is our duty to protect those with chronic illnesses and the elderly