Expo 2020
The Festive Pass! Golden Jubilee, Alicia Keys, A.R. Rahman, Christmas And New Year's At Expo For Just AED95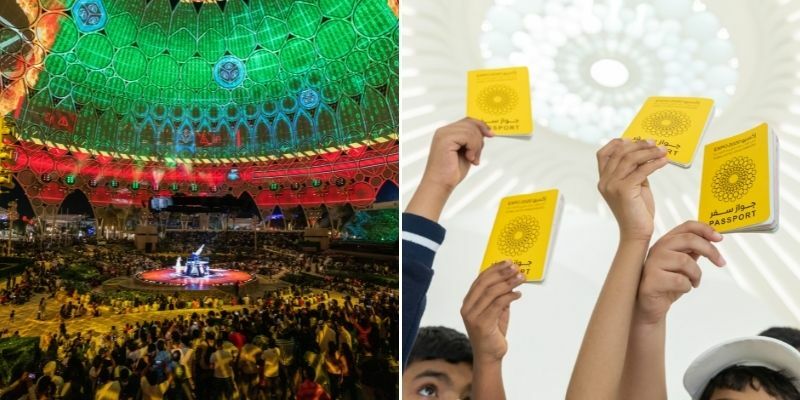 'Tis the season to be festive and there's so much to look forward to at Expo 2020 Dubai!
Kicking off with UAE National Day celebrations at the beginning of December and running until the end of the year, the Expo 2020 Dubai schedule is jam-packed with memorable events (scroll for more details), and Expo has just announced a convenient monthly pass for adults that covers you for everything.
The Multi-Day Pass for adults deal for December has been announced and it's perfect for anyone who's planning multiple visits to the world's greatest cultural gathering. The AED95 pass covers you for unlimited entries until December 31 (*some days require reservation), it's available for adults (18 – 59 years) AND includes 10 Smart Queue Bookings (aka queue skips) per day!
Take the time to explore 192 Country Pavilions, treat yourself to a culinary tour of the world, watch street performances and world-class musical shows all in one place this December!
View this post on Instagram
Golden Jubilee, Alicia Keys, A.R. Rahman, Christmas, and New Year's Celebrations all for the price of one ticket!
Once you visit Expo, you'll understand there's a whole world to explore, right on our doorsteps, and 1, 2 or even 3 visits simply won't be enough! If you purchase the Festive Pass, you can upgrade to a Season Pass for AED150. Alternatively, a Season Pass is available now for AED495 – more details on tickets here.
The calendar of events is choc-a-block full until the end of the year, kicking off with Golden Jubilee celebrations taking place at the Al Wasl dome (December 3 and December 4), a celebration for Arabic Language Day, the one and only Alicia Keys will perform on Al Wasl Stage on December 10 followed by Academy Award-winning composer and musician A.R. Rahman who is also performing.
There will be 8 days of festivities for Christmas when Al Wasl Plaza turns into a magical winter wonderland with stunning Christmas decor, festive projections and a unique Christmas evening show. Throughout the districts, live performances, Christmas carols, and festive surprises will shine throughout followed on December 31 by a mega countdown for New Year's Eve featuring lights, live music, dance, projections, and fireworks… We can't think of anywhere more magical to roll in the New Year!
View this post on Instagram
Important info for visiting
If you are vaccinated and 18 years and above, you must present proof of at least one dose of any COVID vaccine recognised by any Expo 2020 participating country or the World Health Organisation (WHO)
If you are unvaccinated and 18 years and above, you must present a negative PCR test certificate for a test conducted within the last 72 hours
PCR tests are free of charge at the DHA Expo 2020 PCR Testing Facility for unvaccinated visitors, ages 18 and above, who have a 1-Day Ticket (Adult, Student, Senior or companion of the person of determination) or Multi-Day Pass (Adult, Student, Senior or companion of the person of determination)
Please take the PCR test at least one day before your visit to Expo as results will take up to 10 hours. You will not be allowed into the site without a negative PCR test result
*Expo 2020 Dubai reserves the right to modify ticket benefits without prior notice
*Tickets are non-refundable
*Tickets are non-transferable after first use
*Ticket cannot be combined with another offer
Read next: The 8 Coolest Things You NEEEED To See At Expo 2020 Dubai