Latest
From Earth To Space: HH Sheikh Mohammed Has A Call With Astronaut Sultan AlNeyadi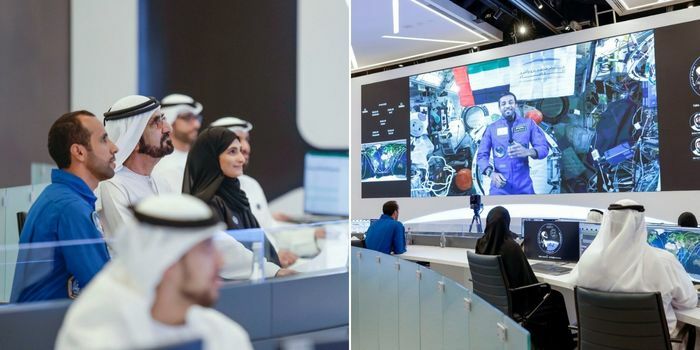 This mission is no easy feat! Emirati astronaut Sultan Al Neyadi is spending the next 6 months at the International Space Station. Al Neyadi is actually the second Emirati to travel into space after Al Mansouri, and the first Arab to undertake a long-duration mission.
The launch was meant to take place on March 2 but it had to be postponed due to unfavourable weather conditions.
His Highness Sheikh Mohammed bin Rashid Al Maktoum, Vice President and Prime Minister of the UAE and Ruler of Dubai, had a call with Sultan Al Neyadi
HH Sheikh Mohammed congratulated Sultan on his safe arrival at the ISS and wished him success in his mission.
محمد بن راشد في أول اتصال مع رائد الفضاء الإماراتي سلطان النيادي من محطة الفضاء الدولية: "الحمدلله على سلامتك سلطان ووصولك لمحطة الفضاء الدولية…شباب دولة الإمارات والشباب العربي يتابعونك ويتمنون لك التوفيق في مهمتك…مبروك والله يحفظك" pic.twitter.com/plE8VBXitG

— Dubai Media Office (@DXBMediaOffice) March 7, 2023
Al Neyadi, who arrived at the ISS last Friday, expressed that he and his fellow crew members were coping well with microgravity and had a busy schedule ahead of them
He also revealed that a significant number of experiments were lined up, in which the UAE would be taking part. HH Sheikh Mohammed commended Al Neyadi for being an inspiration to the youth of the UAE and the Arab world. Al Neyadi expressed his gratitude towards Sheikh Mohammed for keeping his promise of sending more astronauts to space.
This mission will provide valuable insights for future space exploration missions.
The UAE's ambitious space program is part of its broader plans to diversify its economy and reduce dependence on oil. The country aims to establish a permanent settlement on Mars by 2117 and has already launched a number of satellites for various purposes.
أثناء مكالمتي اليوم مع سلطان النيادي .. أول رائد فضاء عربي في مهمة طويلة لمدة 6 أشهر على محطة الفضاء الدولية … سلطان يفتح أبواباً جديدة لشبابنا .. ويرفع السقف لطموحات أجيالنا .. ويمثل جزءاً مشرقاً من مستقبلنا .. pic.twitter.com/s9sLpgATat

— HH Sheikh Mohammed (@HHShkMohd) March 7, 2023
Watch The Lovin Dubai Show: The Customs Fee On Goods Over AED300 Has Been Scrapped
Get the latest Dubai news direct to your phone RN! Download The Lovin Dubai app for free RIGHT HERE (App Store) (Play Store) to get the latest trending stories to your phone.
Subscribe to our Newsletter.
Get the best of your city straight to your inbox.