Latest
HH Sheikh Mohammed Wrote A Beautiful Poem To Congratulate Sheikh Nasser On Endurance Cup Win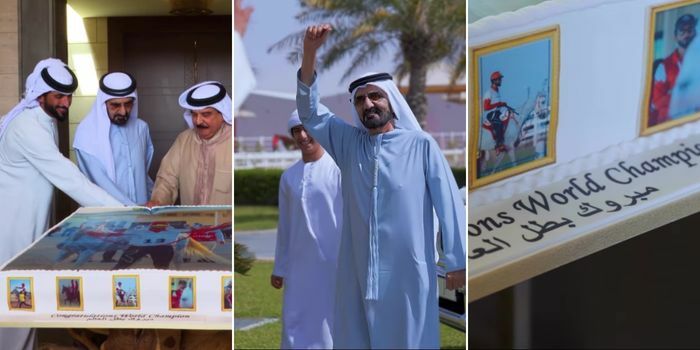 The Endurance World Championship 2022 was something to watch for sure, even the royal family of Dubai tuned in. Sheikh Nasser bin Hamad Al Khalifa, son of King Hamad bin Isa Al Khalifa, King of Bahrain, won and it was a huge accomplishment.
HH Sheikh Mohammed bin Rashid Al Maktoum, Vice-President and Prime Minister of the UAE and Ruler of Dubai even celebrated Sheikh Nasser's major win with a huge cake!
HH Sheikh Mohammed wrote a poem to congratulate Sheikh Nasser on his remarkable achievement
View this post on Instagram
HH Sheikh Mohammed's seven-verse poem is touching and expresses pride for Sheikh Nasser's "incomparable" win!
In the poem, he says that Sheikh Nasser is following in his father's footsteps. He also compared Sheikh Nasser to his own brother Hamdan, emphasizing the deep respect and admiration he has for the young champion.
Sheikh Mohammed's heartfelt message and congratulations to Sheikh Nasser and Bahrain highlight the incredible achievement of this young leader, who has shown remarkable skill, determination, and dedication in the field of endurance riding. His accomplishments are a source of pride for his country and an inspiration to many.
View this post on Instagram
Get the latest Dubai news direct to your phone RN! Download The Lovin Dubai app for free RIGHT HERE (App Store) (Play Store) to get the latest trending stories to your phone.
Subscribe to our Newsletter.
Get the best of your city straight to your inbox.