Dubai
Model Rym Saidi Took Scissors To Her Balenciaga Shoes To Protest The Brand's Sexual Exploitation Of Children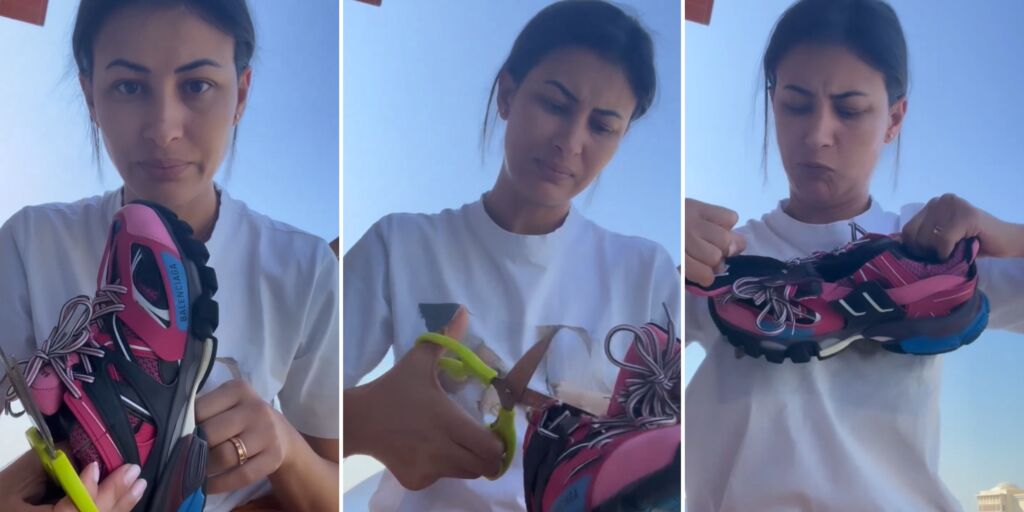 Tunisian model/actress and Dubai resident, Rym Saidi, cut up and tore a Balenciaga shoe to show her disapproval and boycott of the brand
In the video, Rym is holding a pair of scissors with which she completely destroys the shoe in a symbolic feat: "As a mother, influencer, and public figure and I have so many Instagram followers I can't keep quiet."
Balenciaga's Spring 2023 fashion campaign recently released images that featured children holding teddy bears with sexually indicative accessories such as black belts, chains and mesh. Worse still, some users on the internet noticed that under a suitcase was kept a court document which contained excerpts of a U.S. Supreme Court ruling on child sexual exploitation.
With the online outrage that Balenciaga encountered, it quickly apologized and deleted the pictures. Evidently, the brand will not easily get away with it as people have been calling out the brand's ambassador Kim Kardashian to take action,
Rym's captions the video with "Raise your voice" and "Protect your children" but also not without a challenge: "Kim Kardashian, it's ur turn, I challenge you to do the same."
View this post on Instagram
Lebanese TV presenter, Wissan Breidy, who is Rym's husband, also showed his disapproval and boycott by sharing evidence on his Instagram
He captioned the post which shows a catwalk of models holding the problematic and disturbing teddy bears on the catwalk. One model is shown holding a baby carrier with a doll and a bag full of blood-stained children-related equipment such as pacifiers and towel-cloths.
Wissan tells his followers, "Balenciaga wants you to believe that their pedophilic ad campaign was an "accident." Sick brand, sick people" and adds the hashtags calling for a Balenciaga boycott.
View this post on Instagram
In a video on his Instagram feed, Wissam tells people to not get fooled by these big-name brands
"These brands have agendas they don't create and sell fashion only, they communicate there values and ethics through fashion, it's not only about kids and pedophilia, it's about human behavior and values. It's not the first time that @balenciaga promoted this kind of messages , they promote this through every single collection and now they are using kids. Plus they use celebrities to promote this too. Don't be follower always do the right thing."
View this post on Instagram