Latest
A Fun Day Out: There's A Pizza Cooking Class For Kids In Dubai For Only AED50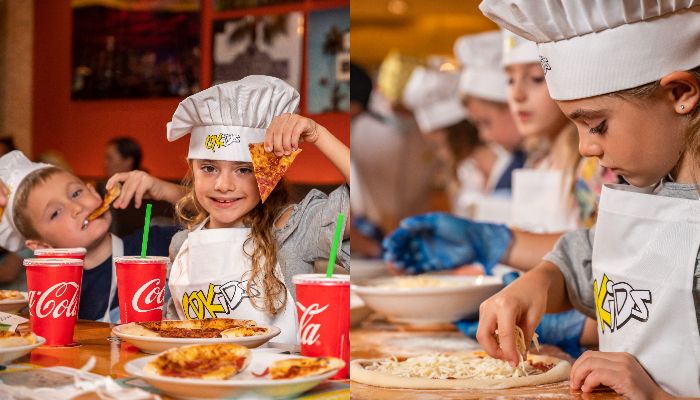 When the going gets tough the tough get going to California Pizza Kitchen (CPK), for uber fun COOKING CLASSES! And cooking classes from the OG pizzeria in town is a HIT all the way, especially for 'em kiddos. Get your little munchkins to channel their energy in a productive yet fun-licious way!
To spoil your kids, even more, CPK will also throw in complimentary chef hats and aprons so that the little ones get the FULL Gordon Ramsay experience. Hats off to the chef!
Help your children roll and knead dough as they discover the secrets to pizza making
Whether it's a classic margarita, fulfilling pepperoni, or even a good ole' pineapple-topped pizza- your child (and you, let's be real) can now learn from the pros. Maybe it'll even spark an interest in cooking!
And who wouldn't want their kid, nephew/niece or baby sibling to become a Michelin-star chef from the ages of 6 to 10?
Kids aged 6-10 are more than welcome to be aspiring chefs for only AED50
Yep, with the purchase of the California Pizza Kitchen's Kids menu, which includes: a kids-sized pizza, dessert, and unlimited soft drinks- the kiddos can learn how to make it!
Making their meals by hand can teach them to value and appreciate hard work at an early age. Pretty sweet if you ask us.
View this post on Instagram
The deets:
The pizza making classes will be held at CPK outlets in both Dubai Festival City and Mall of the Emirates.
But the absolute BEST part? The kids will be rewarded with certificates after completing the class at the CPK Kids Pizza Mania. Kah-yooooot!
If you're interested and want to book your child a slot, click here. When food is involved, you know it'll be a blast.