Latest
3 Reasons You Need To Try Padel Tennis At Least Once In Dubai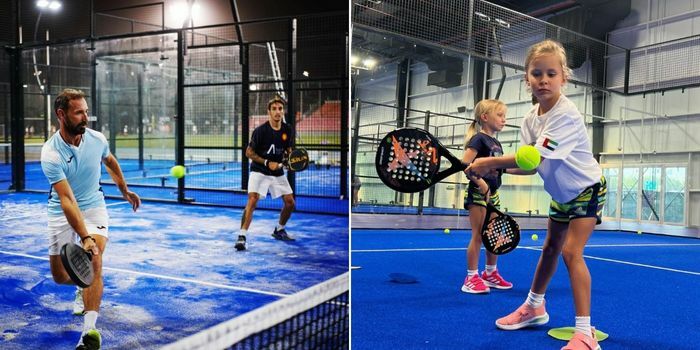 Padel has been growing in popularity in Dubai in the last couple of years. There are padel courts popping up all over Dubai, looking like mini-tennis courts, they are recognisable by their plastic/cage enclosures and usually populated by a foursome of glistening players.
The sport was invented by a Mexican entrepreneur in 1962 but grew in popularity worldwide in the 90s and slowly but surely has been rising in player numbers around the world. People love it 'cus it's fast, competitive, and a great workout. Not just that, Dubai's Crown Prince is a fan – so, it's royally approved!
For the Lovin Dubai team birthday celebration, we decided to play padel. For many in our group, it was their first time, but padel welcomes all ages and abilities. We visited ISD Padel, an extremely cool facility that's dedicated to the sport. It's huge, state-of-the-art, in futuristic white and blue hues, and it's even got an after-bar ideal for a post-game rewind! After some drills and a quick 101 intro to the sport, we divided into pairs for a Lovin championship – and what a blast!
Interested? Here are 3 reasons you should give padel a go
View this post on Instagram
3. The facilities in Dubai are world-class
We tried ISD Padel in Sports City. They've got a huge modern space, complete with six indoor courts and three outdoor courts. It's one of the largest, most advanced padel complexes in the region, built to Federación Internacional de Pádel (FIP) standards using Mondo Supercourt XN turf and courts shipped in from Spain.
The venue has a fantastic centre court with a 530-person capacity, so if you play a tournament, this is the perfect location for the ultimate finals showdown.
Upstairs at ISD Padel is the Eupepsia Performance Lab, a bespoke warm-up and fitness area for Padel Cub Members. From Padel-specific strength conditioning to yoga and stretching classes, there's something for every level of athlete or fitness enthusiast.
View this post on Instagram
2. It's a brilliantly social sport
Team sports teach teamwork and problem-solving skills… whatever you learn on the court are soft skills that can be transferred to real life.
Padel is a fabulous team sport, you can play in twos and in fours, and it's all about teamwork to make the dream work! You can rent a court with mates, join leagues and tournaments, and meet new people to improve your abilities on the court.
1. It's a great workout for all ages and abilities
In just a couple of games and you'll work up one serious sweat! The players on the court will decide the level of play, which means that all ages and levels can try padel and have a good time. It's great for coordination, and it's brilliant cardio. If you love competition, prepare for one helluva fight on the court!
View this post on Instagram
Get on the healthy buzz! Talk to the team at ISD Padel about Theo's Point, health-focused meal plans
A homegrown company delivering healthy meal plans that are catered to your individual needs.
The meals are delivered daily and are solely focused on creating a better you! Designed by clinical dieticians, they use fresh ingredients that stimulate digestion naturally and advanced cooking techniques to preserve and increase the absorption level of nutrients, vitamins and minerals. Click the pic here for more deets.
View this post on Instagram