Latest
5 Reasons To Visit The New Galaxy POP UP In Dubai Mall ASAP!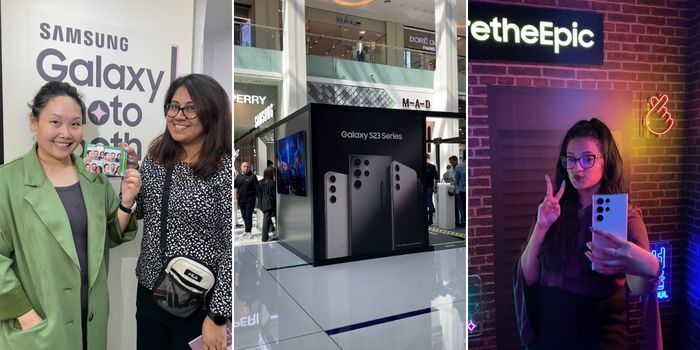 Samsung has done it again!
Unless you've been living under a rock, you've seen ads all over the city for the new Samsung Galaxy S23 series. It's bold, it's new, it's loaded with features and most importantly, it's sustainable.
There are many reasons to visit the new Galaxy POP UP in Dubai Mall… in fact, if you don't already use a Samsung, a visit here will make you want to own one right now
Allow us to tell you why.
5. The adorable Galaxy photo booth is perfect to make memories and save them
After all the fun things you do at the pop up, you're definitely going to want a memory for a keepsake, and that's where the Galaxy photo booth comes in.
This is a fun little corner to go make all the funny faces you want with your friends and family! Also, catch their epic camera in action!
View this post on Instagram
4. The nightography studio is the destination of your next viral selfie
Gone are the days of pixelated night selfies and images. The new Samsung Galaxy S23 takes only the most flattering pictures any time of day.
The nightography studio is a little booth in the corner of the pop-up. It's decorated with the cutest neon signs in a dark room setting- designed to show you what it's like to use the camera at night.
This little room is sure to be a crowd favourite, so head to their pop-up exhibit in Dubai Mall and get clicking!
View this post on Instagram
3. So many amazing competitions…AKA SO many chances to WIN a Galaxy S23!
The Galaxy POP UP has three exciting competitions:
For the gamers: Check out their Asphalt Legends Challenge, where you can basically Play and Win. The five customers who break the daily record will get Galaxy Giveaway Pack- RUN!
For the photographers: Borrow the Galaxy S23, click incredible photos, submit your favourite to the team and stay tuned to know if you won! 2 sessions daily: Portrait photos: 4 pm to 6 pm | Nightography Photos: 7:30 pm to 9:30 pm. 3 winners total!
For the PUBG addicts: Play some PUBG and get…winner, winner, Galaxy S23 dinner – every Sunday!
View this post on Instagram
2. They have fun photography classes that everyone can attend
Take your photography skills to the next level with the groundbreaking features of the all-new Galaxy S23. Learn all the tips & tricks and master the art of photography like a pro!
Happening every Sunday at the Galaxy Pop-Up in Dubai Mall from 7pm!
View this post on Instagram
1. The Samsung Galaxy S23 series
When you live in a city like Dubai it's evident that you're a trend maker, not a follower… AKA you need to get your hands on the stuff before anybody else does!
The Samsung Galaxy S23 is an unconventional model with much to offer… it's time for you to 'Join The Epic'.
It's all set to become the next big thing. If you want to find out the hows and whys…head to their pop-up exhibit in Dubai Mall where the staff is SUPER eager to share all the deets and even provide mind-blowing demos!
View this post on Instagram
The finer deets:
What? Galaxy Pop-Up
Where? Dubai Mall, Near Galeries Lafayette
When? Until Feb 28 only
Free entry, great experiences…come share the epic!