Best Of Dubai
The Big List: Everything To Do For The UAE National Day Weekend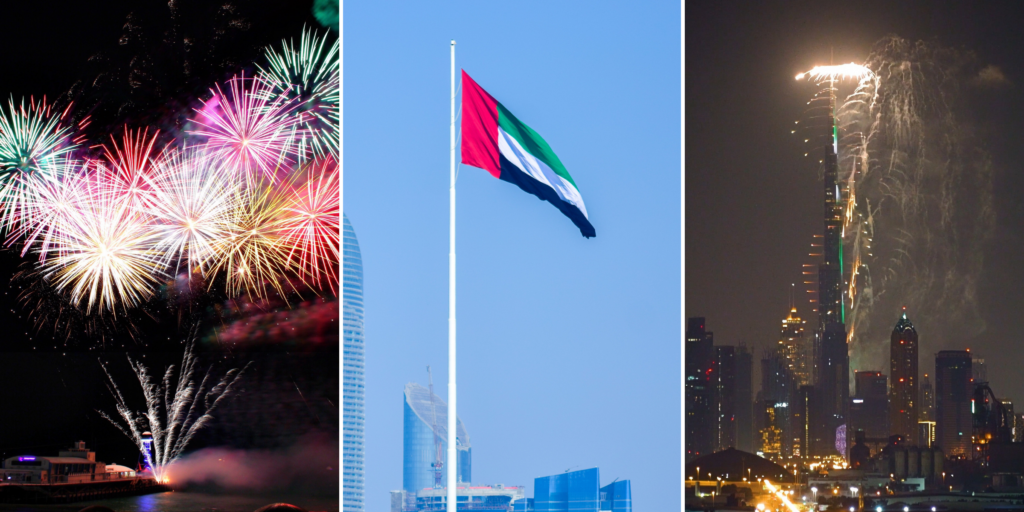 People of the UAE, the most awaited time of the year is finally here! Besides an extended 4-day weekend (*SWOONS*), we will be witnessing a historic anniversary this Thursday (*FAINTS*). On 2nd December, our beloved UAE will turn 50! BIG TEARS!!
The year 2021 marks the golden jubilee of the nation and of course, none of us want to miss out on the big celebrations. BTW, to celebrate hassle-free, the RTA has made public parking spaces free to use between 1-3 December!!
Parking timings for the National Day weekend announced!
#RTA announced the timings of its services during the holiday marking Commemoration Day and the 50th National Day. https://t.co/WOjljO6ffo pic.twitter.com/pxnhJzOz8s

— RTA (@rta_dubai) November 28, 2021
So without further ado, let's dive into all the National Day events taking place this weekend!
16. FIREWORKS: The December night sky will be LIT in the true Dubai style
Back-to-back fireworks will light the sky and you can catch them at various locations across the city at 8:00 pm, 8:30 pm and 9:00 pm on 2 and 3 December. Feast your eyes with the pyrotechnics extravaganza at The Pointe, Atlantis The Palm, Bluewaters Island, Etisalat Beach Canteen at Jumeirah Beach, La Mer, Burj Al Arab, Global Village, and of course, the Burj Khalifa.
The Dubai Frame and the Burj Al Arab will be dressed in flag-coloured lights on both days. Firework displays will also take place at Al Wasl Avenue, Expo 2020 from 1-4 December at 8 pm.
15. The real showstopper of the Golden Jubilee is at Hatta Dam!
Get into the heart of Emirati culture and marvel at the future of the nation with a floating lake on a real lake! WHAT?! Did I read that right? Witness the special grand ceremony of the floating theatrical show which will be  broadcast live here or on their website, as well as all TV channels on 2 December.
The spectacular show of creative and artistic storytelling will be open to the public from 4-12 December. Tickets are priced at AED 300 and are limited so book right now!
View this post on Instagram
14. Meet your favourite content creators at the VidCon Abu Dhabi!
From 3-6 December, meet over 100 of the world's most influential content creators from Supercar Blondie to Smosh. Enjoy concerts, parties, panels, gaming activities, meet & greets and more! If that wasn't enough – superstars Nick Jonas, and Kehlani will be performing live!!
Get all the juicy deets here.
View this post on Instagram
13. What's a Dubai celebration without an iconic run? Join the WolfPack Cubs as they run 50 km to celebrate 50 years!
To celebrate the 50th anniversary, Team Angel Wolf wants to spread the message of inclusion. And they're doing it by an all-ability friendly run! Led by Dubai kids (the Wolf Pack cubs), runners will run relay loops to complete 50 km. The Cubs will run/jog/walk, pushing Rio in his running chair until Rio completes 50 km. Everyone is welcome to join! Lace-up, folks, the race starts at 6 am on 2nd December at the Sustainable City.
View this post on Instagram
12. An outdoorsy celebration alongside your fam and kids
To celebrate 50 years of unity, progress, and prosperity, DMCC is hosting a bunch of fun stuff at JLT Park including live performances, competitions, talent hubs of Emirati crafts, kid's activities, and traditional Emirati and international food stalls. From 4 pm – 10 pm on 2nd December, join in the fun with your fam and friends!
More deets here.
View this post on Instagram
11. Indulge in the 50 celebration by spending only AED 50 for your food!
Explore the Golden Jubilee inspired offers at Expo 2020 with an impressive array of dining venues from VEG'D to ADRIFT Burger to Canvas by Coffee +Culture. Throughout the month of November, enjoy a wealth of jubilee themed dishes, epic line up of chefs, and a wealth of culinary delights.
View this post on Instagram
10. Sing your heart out at these show-stopping concerts
The stage is set for Hussain Al Jassmi, Diana Haddad and Dalia Mubarak to lead the celebrations on 2nd December. The following day, Emirati singers Eida Al Menhali and Shamma Hamdan will be joined by Fayez Al Saeed. Head over to the Burj Park in Downtown Dubai to enjoy the shows, but make sure to book your tickets in advance!
Here are more deets!
View this post on Instagram
9. Stop at these malls to sample a taste of the celebrations
At Dubai Festival City Mall, enjoy fireworks, Ayyala dancers, a flashmob, marching drummers and an exclusive cultural IMAGINE laser show.
Head over to MoE to check out the Draped in Heritage exhibition which showcases garments from the country's past and their look in the future.
City Centre Mirdiff will have a Rooted in Future outdoor market, performances, art exhibitions and a unique car show featuring more than 250 vehicles owned by Emirati enthusiasts.
And finally, get a taste of history at DCC with the Heart of Deira which showcases one of Dubai's oldest neighbourhoods.
Find more details here.
View this post on Instagram
8. Calling all sweet-tooths – it's a race designed just for you!
This Friday, join the Doughnut Run at Dubai Festival City with Race ME – for every kilometer you conquer, you get a doughnut! Mhmmm, you're in for a real treat because the runner who eats the most doughnuts wins!! Don't miss out on all the delicious Krispy Kremes and register now!
View this post on Instagram
7. Winter's here and that means it's time to enjoy some winter sportsss
Chances are, if you are a fan of Spinning Out or Yuri on Ice, you want to see some figure skating IRL. Well, it's your lucky weekend! Head over to the Coca-Cola Arena from 3-5 December to watch the figure skating theatrical performance of Sleeping Beauty and a global professional ice hockey competition! Tickets start from AED150 and can be purchased here!
View this post on Instagram
6. Let's go to the Beach each and let's get a wave for 2nd December!
Head over with your loved ones to Jumeirah Beach (behind Sunset Mall) to enjoy the Etisalat Beach Canteen! Celebrate this UAE National Day with delicious eats, cool weather, good vibes and country pride! Running from 25 November to 11 December, enjoy live entertainment, food offerings, kid's activities and more!
Head over to their website for all the deets!
View this post on Instagram
5. *CLINK* Cheers to 50 years of a great nation! Here's a toast!
For 2nd December, Ninive is bringing you a special national day mocktail with complimentary Arabic sweets! Now that's what we call a real celebration! Check out more details here.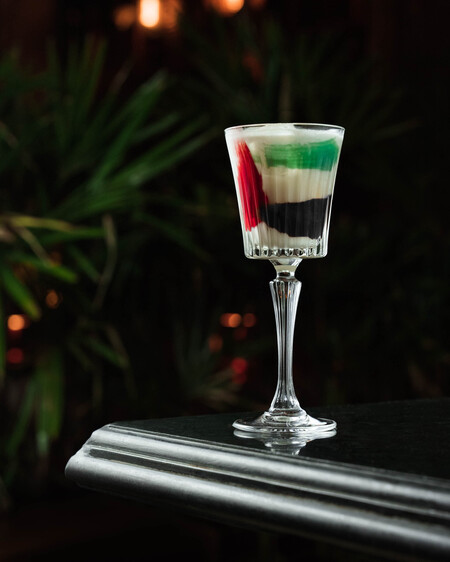 4. A good celebration calls for some luxury shopping!
Undisclothed just opened its flagship store in Citywalk, Dubai. Members get access to private sales with up to 80% discount every month! The first event is for luxury lingerie, ooh la la! The sale lasts only till 5th December so don't forget to go shopping this weekend!
View this post on Instagram
3. Enjoy the festive season with your squad at these group events!
Firelake Grill House at the Radisson Blu Dubai Waterfront has a bunch of events to choose from: Group Parties, Barbecue Parties, Family Style Menu. Running from 1-24 December with various timings and prices, round up the fam and enjoy a much-deserved reunion! Reservations and payment required in advance!
For more deets contact +971 54 583 4051 or +971 56 404 4169
Email reservations to [email protected]
View this post on Instagram
2. Since the Squid Games fever is still hot, why not cool it down with the Just Vegan Squid Game Challenge? 
Just Vegan Restaurant in Jumeirah welcomes one and all to participate in the Squid Games. For only AED 20 (which includes coffee/mojito and dessert), players get to play the Dalgona – Honeycomb challenge and the marble game. Winners get exciting Squid Game merchandise!! Not in the mood for the high stakes? Just chill with the weekend brunch running from Thu-Sat for only AED 49!
View this post on Instagram
1. ROADTRIP: Weekend getaway time!!
The Ritz-Carlton Al Wadi Desert and Al Hamra Beach invite guests on unique Arabian inspired staycations! At Ritz Al Wadi, enjoy private pools to barbecues, mocktails and desertscapes, outdoor adventures, luxury dinners, and horse riding! At The Ritz-Carlton Al Hamra, get direct beach access, spa treatments, bespoke dining experiences and so much more! Advance reservations are required so book ASAP!
For more info about Ritz Al Wadi contact +971 7 206 7777, or email rc.rktrw.restaurant.reserva[email protected].
For more info about Ritz Al Hamra contact +971 7204 8888 or email [email protected].
View this post on Instagram
We wish the UAE a very happy 50th!
And one to look forward to…
Brace yourselves! The Yasalam After-Race Concerts are JUST around the corner, and if you're looking for tickets – NOW is the time to grab 'em!
Only the biggest names in music are hitting the stage this December for four outstanding concerts after the Formula-1 race days.
You may recognise the names Foo Fighters, Lewis Capaldi, Stormzy, and Khalid for sure! Well, now you can see them performing live at the renowned Yasalam After-Race Concerts from December 9 until the 12th.
The Yasalam After-Race Concerts, produced by Flash Entertainment, will be the biggest 2021 has ever seen at the new Etihad Park.
Read more here