Latest
UAE's Debanjali Kamstra Is Named Second Runner-Up In The Mrs World Beauty Pageant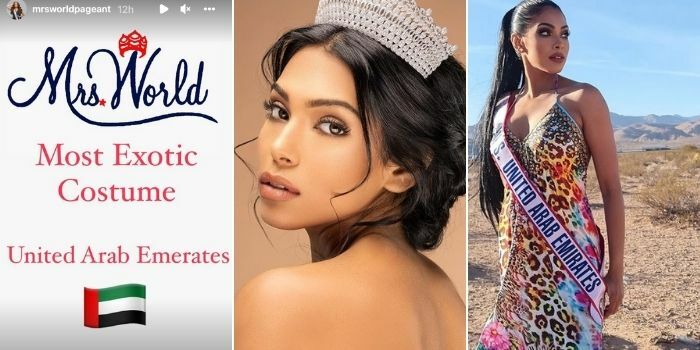 Debanjali Kamstra dazzled at the Mrs World pageant on Saturday! She was representing the UAE for the first time in the pageant's history and was named second runner-up, just behind Jordan and America.
Mrs American Shaylyn Ford beat 57 other contestants and was crowned as Mrs World in Las Vegas! The first runner-up is Mrs Jordan, Jacklyn Stapp.
Just like any pageant, the contestants wear their national costumes, swimwear, eveningwear, and get interviewed to put their public-speaking skills to the test.
The former Emirates airline employee Debanjali Kamstra was named as second runner-up in the Mrs World pageant
View this post on Instagram
Not only did Kamstra win third place, but she was also won 'Most Exotic Costume'
She absolutely stunned the judges as well as the audience in her award-winning falcon-inspired costume. The whole outfit was made entirely of gold fabric and is tied together with a floor-length feather cape. The headpiece, the huge shoulder pads, everything about this outfit was a 10/10.
View this post on Instagram
What you might not have known about our second runner-up
Debanjali Kamstra is a former employee of Emirates Airlines, and opened her first interior design business in Dubai years ago. She's been a UAE resident for 13 years and has since opened 2 more companies, one to sell home interiors, and the other that deals with healthy snacks and beverages.
During the interview portion, she spoke about her charitable efforts in the Middle East.
Being the pioneering United Arab Emirates contestant, I'm [for the] first time representing the country in the platform of the world and if I become Mrs World, I will do a lot for the people of determination as I want them to have jobs and I also want to support the children with autism because they are all inclusive.
She said.
Also Read: Dubai's Filipino Community Is Going WILD Over The Recent Miss Universe Philippines 2020 Pageant 
View this post on Instagram