Dubai
Viral Couple Tiktokers Nora And Khalid Got Married In A Dreamy Dubai Desert Wedding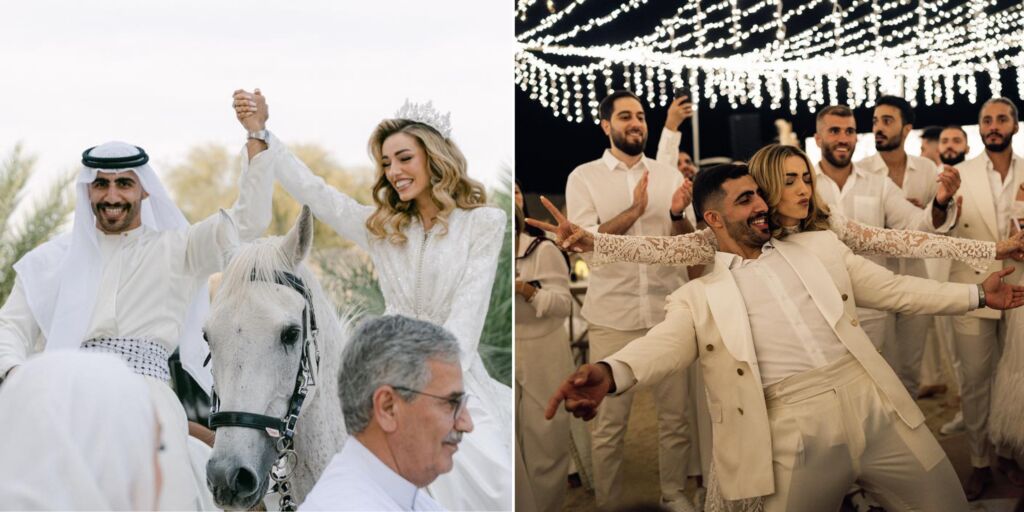 Morrocon gal, Nora Achmaoui, got married to the love of her life, Palestinian boy, Khalid Alherani in a dreamy wedding of a lifetime
The cute couple got married on 23 February 2022, at the Bab Al Shams, Dubai. Their wedding was steeped in their native Palestinian and Morroccan cultures. Attendees were all dressed in white and the bride and groom made their grand entrance on horses!!
Nora, 27, made her bridal entrance on a white horse while Moroccan folk music played out in the background. Khalid, 25, rode into the gathering on a brown horse while the traditional Palestinian dabke reverberated in the background.
Then, there was a dance-off
Between both the sides there was no unquestionable victor, but one can be sure that the couples alongside their families and friends must have had the time of their lives!
The couple also had their names lit up on stilts rising from the desert sand AND Nora sang an original song she wrote – Candle lights and KFC – as a gift to her husband.
From cake and music, buffets that served stuffed grape leaves, ouzi, couscous, and frozen yoghurt among other items, and guests who looked like "angels in the desert" because of the all-white theme, this was definitely a wedding that flaunted off its romantic and fun ideology while proudly holding up its traditions.
View this post on Instagram
Nora and Khalid first met on Instagram back in 2021
Their meeting started with them liking each other's photos on Instagram. From then on, it was true love. The two spent almost everyday together and soon started making content together. The rest, as they say, is history. Now, they have a Tiktok following of a whopping 1.3 million. Talk about couple goals (massive heart eyes).
Plus, their culturally-significant GORG wedding made it to the New York Times
Read more: