Latest
4 Fabulous Shows You Don't Want To Miss This December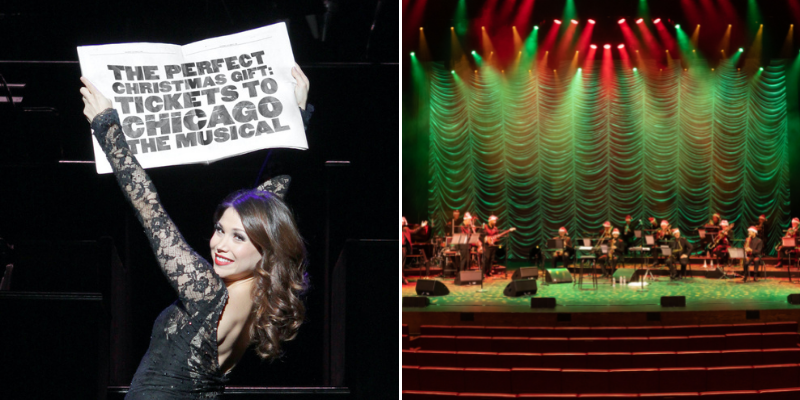 T'is that time of the year! The festive cheer is here and the city is set to be decked in its brightest best. But that's not all!
Christmas is also the season for some classic shows and thankfully Dubai Opera has an impressive list lined up. Without further ado, here are some of the greatest shows you must not miss at the Dubai Opera this December!
Make your pick and book your tickets NOW!
4. CHICAGO The Musical
With more than 32,500 performances worldwide, CHICAGO The Musical is the #1 longest-running American musical in Broadway history! It has played in 36 countries and in more than 500 cities. Over the years, the musical has been graced by many stars throughout its 23 years on Broadway, including Bebe Neuwirth, Ann Reinking, James Naughton, Joel Grey, Jasmine Guy, Sharon Lawrence, Marilu Henner, and many more.
Created by the musical theatre talents of John Kander, Fred Ebb and legendary choreographer Bob Fosse, CHICAGO's sassy score includes "All That Jazz" and "Razzle Dazzle".
With 6 Tony, 2 Olivier, 1 Grammy, 2 Bafta and 6 Academy Awards, tickets to the CHICAGO musical will be the perfect Christmas gift this year!
The show is happening from 5-8 Jan and 10-15 Jan 2022. Tickets start from AED345 onwards.
View this post on Instagram
3. The Sound of Christmas
Christmas is around the corner and this year, the Dubai Opera Big Band returns for a Christmas celebration like no other. Ring in the festive season with all your favourite Christmas songs, including Santa Baby, Jingle Bell Rock, Winter Wonderland, Feliz Navidad, All I Want for Christmas Is You, Rockin' Around the Christmas Tree, and many more.
Twenty-five of the very best Jazz musicians in the UAE and GCC will entertain guests in a stunning show led by the hugely talented Adam Long, as well as some very special guest singers. There will be a 2pm family performance and an evening performance at 8pm. So, get set to sing your heart out! 
And the best part- every ticket includes a FREE Father Christmas hat and a welcome glass of Christmas beverages. 
The show is happening on 21 and 22 December 2021. Tickets start from AED95.
View this post on Instagram
2. The Nutcracker
An eternal seasonal favourite and a must-see during the festive season, The Nutcracker is a Russian ballet that adds more magic to the advent season. 
The story revolves around young Clara Stahlbaum who receives a nutcracker from her mysterious Godfather Drosselmeyer. As midnight approaches, enchantment envelopes the household. The Nutcracker springs to life to battle the Rat King and his evil curse. Finally free, the Nutcracker transforms into a prince and invites Clara on a dreamlike journey to a Land of Enchantment.
Snow flurries, sweets, princes, magic and love, are just some of the elements that this renowned Russian company will bring together. The Nutcracker is a highly accessible ballet, full of familiar music such as the Waltz of the Flowers and the Dance of the Sugar Plum Fairy.
This one's the true curtain-raiser to Christmas!
The show is happening from 23-25 December 2021. Tickets start from AED300. 
View this post on Instagram
1. Tosca
Sung in Italian with English Subtitles "Tosca" by the Russian State Opera features an impressive cast, accompanied by a delightful live Orchestra. The opera classic tells the story of two idealistic lovers, Tosca and Cavaradossi. Their loyalty to each other is put to a cruel test by Scarpia, the ruthless and unscrupulous police officer, who sentences Cavaradossi to death. However, the officer is prepared to let Cavaradossi go if Tosca is willing to spend the night with him.
This haunting tragedy with its breath-taking arias will transport you to a romantic Rome full of drama, passion, love, and betrayal.
One of the most emotionally engaging and popular Operas of all time, Tosca is sure to intrigue and fascinate you!
The show is happening from 27-29 December 2021. Tickets start from AED300. 
Hang on! The party ain't over yet!
Head to the Dubai Opera on 31 December and end the year on a high note.
Guests can binge on a lavish 3-course meal, free flowing house beverages for 6 hours, and an incredible view of the Burj Khalifa fireworks. On this special occasion, internationally acclaimed dancers and the 2020 finalists of Britain's Got Talent Aaron & Jasmine will captivate guests with an incredible live performance, featuring an incredible cast of dancers and singers from across the globe. Pioneer DJ Chris Wright will also be behind the decks to keep the celebrations in full swing.
Now, that's one way to ring in 2022!