Latest
A Proposal Lit Up The The Burj Khalifa And It Was A Real Magic Moment!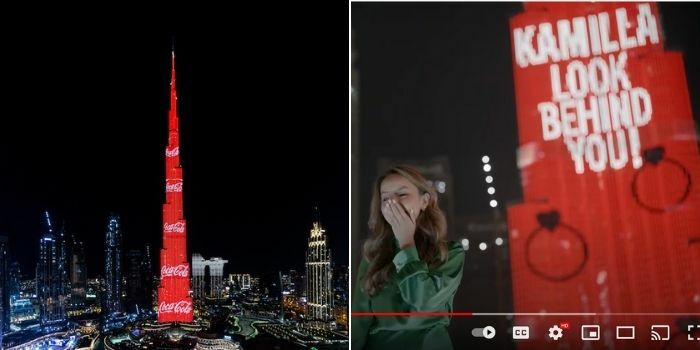 Dreamy proposal alert!
Picture this: You're standing beneath the world's tallest (and arguably most beautiful) building, your life changes forever, and it's all captured on camera so you can relive the special moment again, and again.
Coca-Cola's new global philosophy is the message that Real Magic is everywhere. It's around us, it's within us and if we can let it out, we find we are our true selves… and there are moments everywhere to prove it.
One clear, starry night in Dubai, the Burj Khalifa lit up to display this philosophy. As always, thousands were there to witness the magical moment, but very quickly, people realized the messaging was for one person.
"Kamilla look behind you!"
Amid the vibrant scene, a Dubai resident carved out a moment to propose and it was the most adorable moment.
Goosebumps moment! Best of luck to Kamilla and her new fiancé
This was not a stunt. A young couple DID get engaged and the story is a reflection of the new Coca-Cola identity. There are Pure Magic moments everywhere and you'll find them at the most unexpected times.
The purpose is to uplift people, to help people come together, and to find the extraordinary in any given moment, as we live in an increasingly divided world.
Magic isn't about the unbelievable or mystical, but about those moments of real human connection. Real Magic can happen at any given moment and can be extraordinary. The Real Magic philosophy is rooted in the belief that differences can make the world a more interesting place, so there was no better place to celebrate the Real Magic of humanity than in the most diverse nation in the world, on the most iconic landmark in the region – the Burj Khalifa. 
Tarun Sabhlok, Region Marketing Director – Middle East at The Coca-Cola Company.
The important bits:
'Real Magic' is a new identity for Coca-Cola, launched alongside the 'Hug' – a refreshed visual identity and new perspective on the brand's famous logo. Inspired by Coca-Cola's classic packaging, the 'Hug' logo lifts the curved Coca-Cola trademark on bottles and cans to provide a visual signature that will embrace and frame moments of magic.