Latest
8 Reasons Travel is Good For The Soul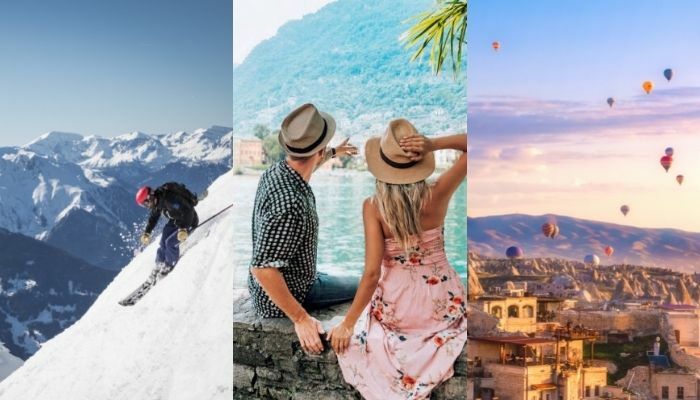 8 Reasons Travel is Good For The Soul
This travel season, the universe is calling you to rediscover yourself and the world around you
Borders around the world once again reopening to tourists marks a new dawn for travel that our souls have been craving. It's time to get back out there and connect with all things wonderful, explore new places, experience new things, meet new people and discover new aspects of ourselves.
Marriott Bonvoy believes in the transformative power of travel, and that travel helps us to thrive and become the best version of ourselves. Plus, with their 30 awesome hotel brands across not only the UAE but the world, whatever your journey, Marriott Bonvoy can take you there.
So in the spirit of getting back out there into the world, here are 8 reasons why travel is chicken soup for the soul.
View this post on Instagram
1. Travel pushes us out of our comfort zone
Sitting in the office 24/7 puts you in a rut, a routine and a seemingly endless loop that only YOU can break out of. With travel, everyone's pushed to be a little bit more daring, adventurous and try new things.
After all, there's no point in doing the same things you would have done in your day-to-day life.
When you travel, you're given no choice but to try the food you usually wouldn't in restaurants you've never tried, or take on adrenaline-filled sports, amongst SO much more.
View this post on Instagram
2. Travel builds our confidence
Once you partake in something you thought you could never do, don't you get a rush of joy and confidence after? Once you've ticked something off, it's no longer the stranger in the room and trying something for the first time is more likely to make someone try it again, without hesitance. That's essentially what travel does and is why it's so addictive.
It's the finer things in life that are worth living for! Things such as exploring, adventures, learning, taking risks, eating new food, meeting new people, hearing enlightening stories
View this post on Instagram
3. Travel makes us happy
Travel helps us fall in love with life and this planet we live on.
Some of the best moments in life can happen when we are travelling from snorkelling in a tropical reef, to hiking a mountain, to seeing the most amazing sunset and capturing it or simply taking it all in.
It's YOUR time to be in the present moment, wherever it is and whatever you decide to do.
Best part? With the points earned as a Marriott Bonvoy member, you can easily redeem FREE nights, VIP access to sporting events, concerts and other upscale events PLUS flights and car hires
View this post on Instagram
4. Travel broadens our knowledge and opens our minds
Seeing another country is an eye-opener because every step you take means you're learning all about another country's history, their cultures, what understanding another really mind adding to not only your knowledge of the world around you but increasing your level of empathy towards others.
And that's never a bad thing!
View this post on Instagram
5. Travel reminds us that we are all one
No matter how far we travel we discover common ground and reminds us of our shared humanity.
It deepens our empathy and reminds us that deep down no matter where how different our cultures and countries may be, we have more in common than we think.
View this post on Instagram
6. Travel opens us up to meeting new people
Whether it's learning to greet the citizens of the country you're visiting or being fully immersed in your French friend's language and community. Travel is that kind of movie-esque moment that brings about the best random conversations and can bring about unexpected friendships.
View this post on Instagram
7. Travel helps us discover who we really are
Being out of your comfort zone or around the people and surroundings that influence who you are can be quite daunting. Do you know who YOU really are?
Traveling means ridding yourself of the echoes, the influences and the outside noise. It can help shift your perspective, broaden your horizons, learn what you like, what you really want to do without the noise and distractions of everyday life.
View this post on Instagram
8. Travel can relax the mind, body and soul.
Traveling usually means you've taken time off of everything work-related or the daily trials you undergo in your usual life and can finally relax. This is one of the main reasons why people do it anyway, it's a great recharge, and reminder that there's SO much to the world than what we see every day.
After the pandemic, we've all definitely learned to prioritise our mental health and rejuvenating through travel is one of many ways to do this.
View this post on Instagram
Where can we take you?
Marriott Bonvoy has over 30 incredible hotel brands across the globe including The Ritz-Carlton, W Hotels, Westin Hotels and Resorts, Le Meridien Hotels and Resorts, Aloft Hotels and Courtyard by Marriott.
Join the Marriott Bonvoy Loyalty Programme at zero cost and become a member with exclusive benefits such as member rates, mobile check-in, free Wi-Fi and redeem points for FREE nights, flights and so much more!
Join here, and download the app here on Apple/Google Play
#TravelMakesUs #MarriottBonvoy